While oatmeal is the perfect breakfast food, plain oats don't have enough protein for your morning meal. Here are 10 easy and delicious ways to make high-protein oats each and every morning! 
Few things are more comforting than eating a bowl of oatmeal for breakfast. This hearty meal fills you up quickly and offers steady energy throughout the day. But what you add to your oatmeal can make it even more satisfying and nutritious.
One thing is for sure: oatmeal packs a hefty nutritional punch and fits into most diets. Soluble fiber, one of its key nutrients, promotes satiety and may reduce cholesterol levels. At the same time, it slows down sugar absorption into your system and prevents insulin spikes. The benefits of soluble fiber may also include better digestion and a lower risk of cardiometabolic diseases, such as diabetes.
Go one step further and mix oats with peanut or almond butter, yogurt, or chia seeds to get more protein in your diet. Think of it as a quick, easy way to fuel your body in the morning or before a workout and boost your nutrient intake. With that in mind, here's how to add protein to oatmeal without sacrificing flavor.
How much protein is in oatmeal?
Whole grains are chock-full of fiber, vitamins, and minerals but have little protein compared to many other foods.
For example, cooked oatmeal is rich in fiber, magnesium, phosphorus, zinc, manganese, and vitamin B1, offering both excellent flavor and nutrition. The downside is that it has only 5 grams of protein per cup.
Oats are higher in protein than most grains but still fall short compared to beans, chickpeas, quinoa, or soybeans. For reference, a cup of cooked quinoa boasts 8 grams of protein, whereas black beans deliver over 15 grams of this nutrient per cup.
Some brands sell high protein oats, which can be a convenient choice when you need something convenient. However, these products often contain milk, sugar, artificial flavors, and other extras that you may or may not want to eat every day. They can also be expensive. If you often make breakfast at home, give your oatmeal a protein boost by adding a few simple ingredients to the mix.
Why it's a great idea to add protein to oatmeal
Intuitive eating is all about rejecting the diet mentality and eating what feels right to you. This approach requires some creativity in the kitchen, as well as a good understanding of what your body needs. Adding a protein to your oats that tastes amazing to you is a great way to implement gentle nutrition into your morning meal.
You may already be eating oatmeal for breakfast, and that's great! But if you're still feeling hungry or lacking energy, add some protein to the mix. It might be exactly what you need to regain your mojo and start the day on a high note.
Oatmeal, by itself, is a good source of dietary fiber, which increases satiety and regulates blood sugar. Because of its high fiber content, oatmeal can keep you full throughout the morning, giving you long-lasting energy. Plus, it's rich in complex carbs and may speed up recovery from exercise.
But, depending on your activity level and health goals, you may need more protein in the morning. This macronutrient helps build and preserve lean mass, supports feelings of fullness, and boosts your metabolism.
Eating a high-protein breakfast can help reduce nighttime snacking and balances the hormones that regulate appetite. Starting your day with a high-protein meal also helps slow down the digestion of carbohydrates, leading to a more even release of sugar into the blood for prolonged energy.
Adding protein to oatmeal could also be the key to improved exercise performance. Your muscles are in a fasted state when you wake up, and if you exercise shortly after breakfast or before noon, you'll need the energy to get through your workout without feeling fatigued.
10 Simple ways to add protein to oatmeal
Ready to supercharge your breakfast? Try any of these 10 tips on how to add protein to oatmeal!
1. Stir in some peanut butter 
An easy way to increase the amount of protein in oatmeal is to add a drizzle of nut butter. This creamy ingredient has 7 grams of protein per 2-tablespoon serving.
Peanut and almond butter are the highest in protein, but you can also use cashew butter, pistachio butter, or walnut butter, but keep in mind that each of these nut butters has less protein than peanut butter.
Simply stir in a spoonful of nut butter and enjoy! For extra crunchiness, use crunchy nut butter or sprinkle some walnuts, chopped walnuts, or cashews on top.
How much protein it adds: 3.5 grams of protein per tablespoon of peanut butter
2. Use dairy milk or soy milk instead of water
Cook your oatmeal in dairy milk or soy milk instead of water for a protein boost. All you need to do is bring one cup of milk to a boil, stir in a half-cup of oats, and cook for about five minutes. Add a handful of berries, nuts, or dried fruit for flavor.
Soy milk has 7 grams of protein per cup, and dairy milk has 8 grams per cup, no matter if it's skim, whole, or anything in between. Other types of non-dairy milk typically have low amounts of protein unless it's been specifically added. Make sure to check the label!
How much protein it adds: Between 7 and 8 grams of protein per cup
3. Make overnight oats with soy or Greek yogurt
This quick overnight oats recipe is high in protein, dairy-free, and gluten-free. You can easily substitute Greek yogurt for soy if you prefer. Plus, you don't even have to turn on the stove or the microwave!
First, you'll mix the oats with soy milk, hemp seeds, chia seeds, almonds, and other delicious ingredients in a bowl. Sweeten with maple syrup, brown sugar, monk fruit, date sugar, or frozen fruit.
Next, refrigerate your oatmeal for three hours or longer. The longer it sits in the fridge, the thicker it gets.
How much protein it adds: 12 grams per ½ cup of Greek yogurt
4. Mix in some hemp hearts
Hemp hearts are a complete plant protein, meaning they contain all nine essential amino acids. Plus, they deliver high doses of omega-3s, iron, magnesium, phosphorus, and thiamin. You can use them in any recipe that would otherwise use chia seeds or flaxseeds.
For extra protein, mix 1 to 3 tablespoons of hemp hearts into your oatmeal before cooking or sprinkle them on top just before serving.
How much protein it adds: 3 grams per tablespoon of hemp hearts
5. Top your oatmeal with roasted chickpeas
Roasted chickpeas may sound odd to add to your morning oats, but savory oatmeal is an amazing way to enjoy this fiber-filled grain.
The best part is that savory oats are perfect for breakfast or lunch, with a balanced mix of protein, carbs, and heart-healthy fats.
How much protein it adds: 5 grams per half cup of chickpeas
6. Treat yourself to a bowl of savory mushroom oats
For another high-protein savory oatmeal, try adding mushrooms. Rich in fiber and protein, mushrooms can be a healthy addition to any meal. With that in mind, you may want to try this hearty oatmeal recipe on a cozy Sunday afternoon or whenever you feel like eating something different.
How much protein it adds: 3 grams per cup of cooked mushrooms
7. Bring on the beans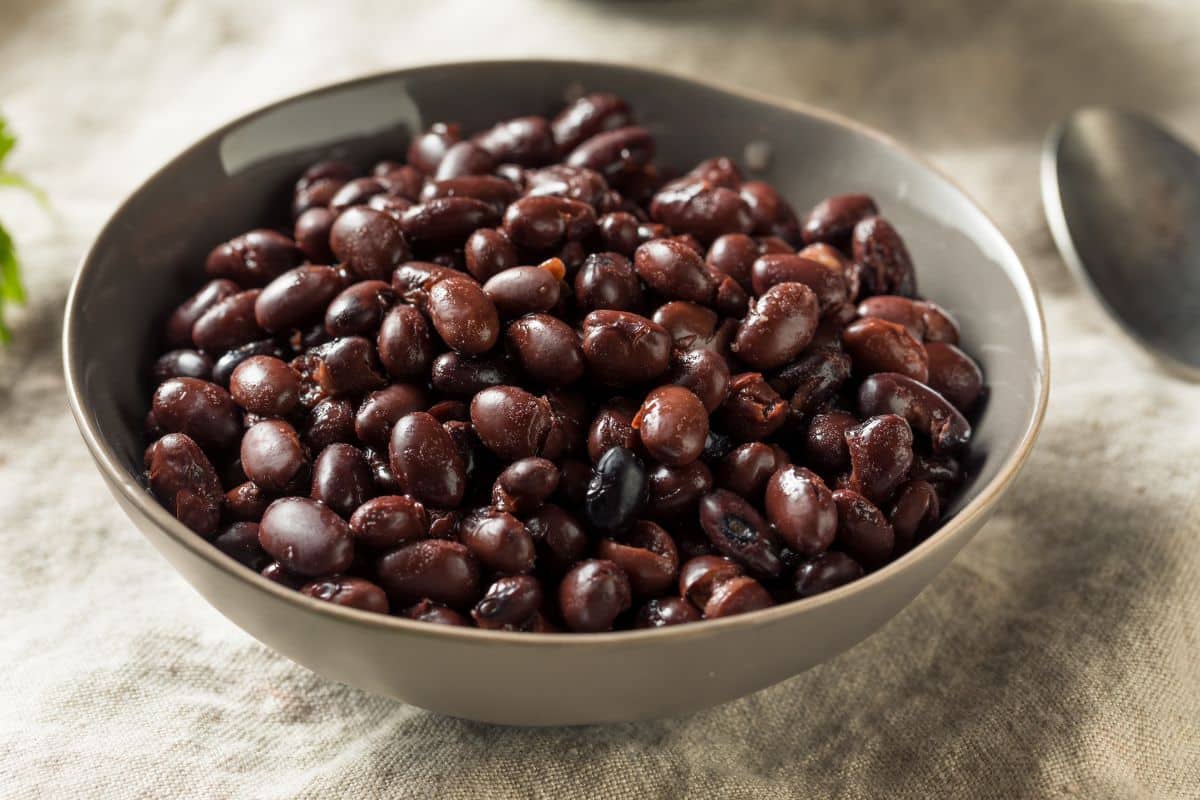 How would you feel about starting your day with a warm bowl of oatmeal with avocado, black beans, sweet potatoes, and fresh salsa?
This Southwestern oatmeal recipe is a unique way to add extra protein to your oatmeal with black beans, which add extra fiber, protein, magnesium, and iron to your meal.
How much protein it adds: 7.5 grams per half cup of black beans
8. Add a scoop of hummus
Not another savory oats add-in (unless you want it to be!). Stir a tablespoon or two of dessert hummus into your oats. Dessert hummus is made from chickpeas and sweetened and flavored with things like vanilla, chocolate, or cinnamon.
How much protein it adds: 1 gram per two-tablespoon serving
9. Stir in chia seeds
Loaded with fiber, protein, calcium, and iron, chia seeds are a nutrition powerhouse. Plus, they absorb up to 10 times their weight in water, keeping you full for hours.
To reap the benefits, stir two tablespoons of chia seeds into oatmeal before cooking. Add almond milk, mix well, and then microwave for two minutes. Top with vanilla, cinnamon, pecans, or fresh fruit.
If you let the chia seeds sit with the oats and liquid for a few minutes before cooking, they'll expand, adding more volume to your food too!
How much protein it adds: 4 grams per two-tablespoon serving
10. Make high-protein oats with silken tofu
Tofu isn't the first ingredient that comes to mind when cooking oatmeal, but it blends perfectly with oats and other ingredients. Silken tofu, in particular, can be a great addition to oats because of its smooth texture and neutral flavor.
Try this high-protein oatmeal recipe that calls for old-fashioned rolled oats, bananas, silken tofu, cinnamon, vanilla, and a pinch of salt.
How much protein it adds: 4 grams per 3.2 ounces (¼ of a 12-ounce package)
11. Make a "protein icing" with protein powder
While every other way adds protein to oatmeal without protein powder, this one is a quick and dirty (and delicious) high protein solution.
Add a sweet drizzle of "icing" to your oats for protein. Mix one scoop of your favorite flavored protein powder with 2 tablespoons of Greek yogurt until smooth.
Then drizzle the icing over the top of your oats and enjoy!
How much protein it adds: 10-20 grams of protein, depending on the protein powder you use
Give your oatmeal a protein boost
Save this post for the next time you make a bowl of oats!
Oatmeal is a good choice for breakfast or lunch, but you can take it up a notch by adding more protein with any of the tips above.
With some creativity, you can turn oats into a creamy dessert, a savory treat, or a pre-workout meal that will power you through the day.