Improving your gut health can make a tremendous difference in your health. So, should and can you take probiotics and prebiotics together to maximize the benefits? Read to find out!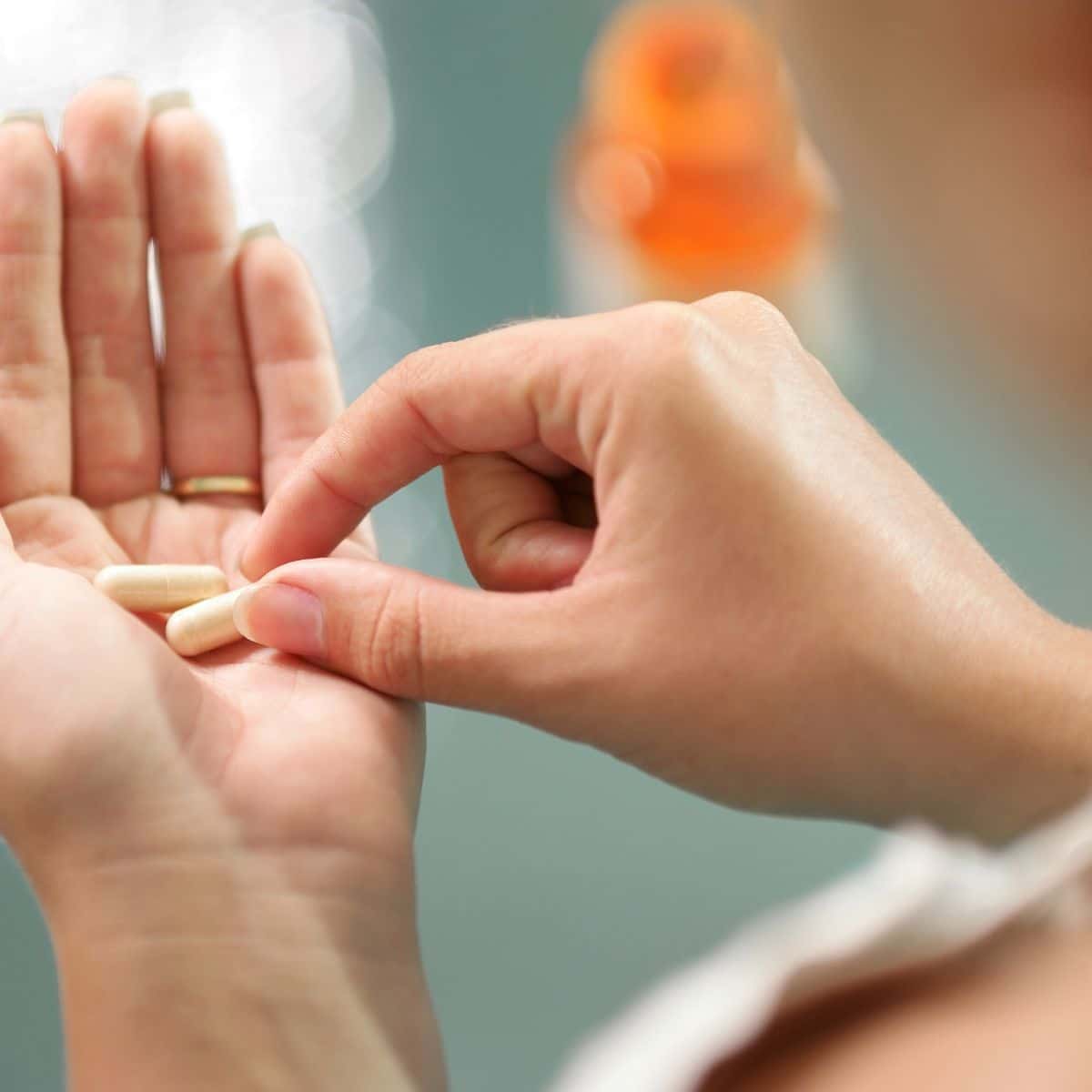 Did you know that your gut is home to over 1,000 bacterial species? These microorganisms regulate immune function, digestion, and metabolism. Some also influence appetite, food preferences, and body weight.
However, not all gut bacteria are beneficial. Invasive species like E. coli, C. difficile, and Streptococcus can contribute to liver disease, obesity, cardiovascular problems, and other disorders. For example, certain strains of E. coli may cause abdominal pain, gas, and digestive distress.
One way to maintain a healthy balance between good and bad gut bacteria is to get more probiotics in your diet. But your body also needs prebiotics, which serve as a food source for the beneficial bacteria in the gut.
The question is, can you take probiotics and prebiotics together? And what's the difference between the two? Let's find out.
This post may contain affiliate links, which means I may receive a small commission if you click and purchase from the link (at no cost to you!). See full affiliate information here.
Jump to:
What are probiotics and prebiotics?
Aging, stress, poor nutrition, and other factors, such as the use of antibiotics, can disrupt your gut flora, causing an imbalance of microbial species. This process, which is known as dysbiosis, may contribute to metabolic diseases, neurological illnesses, and digestive discomfort.
You may have even experienced gas, bloating, nausea, and diarrhea after a course of antibiotics in the past. While these drugs kill bacteria and prevent them from multiplying, they're not selective in their action, meaning they can destroy both harmful and beneficial bacterial species.
Probiotics and prebiotics can work together to restore your gut flora. Probiotics are live bacteria or yeasts that colonize the digestive tract, increasing the number of beneficial microbes.
These foods or supplements can contain various microorganisms, with the most common ones being Lactobacillus, Bifidobacterium, and Saccharomyces boulardii, a probiotic yeast.
Prebiotics, on the other hand, feed the good bacteria in your gut. These are non-digestible fibers derived from garlic, onions, chicory root, artichokes, and other plant foods.
An example of a prebiotic food is pectin, a soluble fiber that occurs naturally in apples and citrus fruits. Beta-glucan, glucomannan, inulin, and other dietary fibers act as prebiotics, too.
As always, remember that I am a dietitian, but I am not your dietitian. I am not a medical doctor and the use of any herbal supplement or remedy should be done only after consulting with your medical doctor.
How do prebiotics and probiotics work together?
Prebiotics and probiotics work synergistically to promote a healthy microbiota, or gut flora. Some foods and supplements contain both compounds, making it easier to keep your gut in balance. For instance, sauerkraut is naturally rich in probiotics but also contains prebiotics.
These compounds can and should be used together for optimal results. In clinical trials, postoperative patients who took both probiotics and prebiotics had fewer complications than those using either compound alone.
Researchers say that synbiotic therapy, which involves the use of prebiotics and probiotics together, can boost immunity and prevent infections. At the same time, it may reduce the need for antibiotics and help maintain a healthy microbiota.
A diet rich in prebiotics and probiotics may also protect against obesity, according to 2017 research. As scientists note, the gut microbiota regulates lipid metabolism, fat breakdown, satiety, and other factors involved in weight management. Taking prebiotics and probiotics together can help prevent gut flora imbalances.
This approach may also benefit people with irritable bowel syndrome (IBS) or small intestinal bacterial overgrowth (SIBO). In the long run, it may relieve nausea, bloating, stomach pain, constipation, and other symptoms associated with these disorders.
When to take prebiotics and probiotics?
You can take probiotics and prebiotics together, but there are a few things to be aware of before you start your gut-healing regimen.
First, dietary supplements—including probiotics and prebiotics—are regulated as foods, not drugs, by the FDA. The same goes for synbiotics, which contain a blend of prebiotics and probiotics. These products are not subject to the same safety measures as medications—and their quality may vary from one brand to the next. This is why it is so important to make sure you're buying your supplements from a reputable brand that does third-party testing for purity and potency.
Second, both probiotics and prebiotics can cause digestive discomfort in some individuals.
Prebiotics ferment in the colon, which may result in gas, bloating, diarrhea, or stomach pain, especially when used in high doses. These side effects are more likely to occur in people with acid reflux, Crohn's disease, IBS, and other digestive disorders.
Third, decide whether you want to take probiotics, prebiotics, or synbiotics. The latter can contain one or more ingredients (e.g., inulin) that your body may not tolerate well. But if you take probiotics and prebiotics as separate supplements, you can see how your body reacts to each product and then adjust the dosage as needed.
Generally, it's safe to take probiotics around the same time you take probiotics. However, you can also take probiotics in the morning and prebiotics before bedtime (especially since the latter can cause bloating and gas). Some prebiotics are better absorbed when taken on an empty stomach or a few hours before a meal, to prevent stomach acid from destroying them before they reach the small and large intestine.
There are no hard rules on when to take prebiotics and probiotics. It all comes down to your tolerance and the product you use. What matters most is to be consistent.
Natural sources of probiotics and prebiotics
Both probiotics and prebiotics occur naturally in a variety of foods. You can increase these foods in your diet along with or instead of supplements to improve gut health.
Probiotic-rich foods
Sauerkraut
Kombucha
Natto
Tempeh
Kimchi
Miso
Koji
Olives
Apple cider vinegar
Pickled vegetables
Coconut kefir
Sourdough bread
Green peas
Prebiotic-rich foods
Apples
Bananas
Dried fruits
Pomegranate
Oats
Barley
Wheat bran
Dandelion greens
Chicory root
Garlic
Leeks
Onions
Lentils
Beans
Soy
Mushrooms
Jerusalem artichoke
Konjac flour and noodles
Cocoa powder
Jicama root
Yacon root
Seaweed
Recommended probiotics and prebiotics
Prebiotic and probiotic supplements can come in handy during and after a course of antibiotics or when your gut is out of whack. These products may also benefit people with impaired immunity or digestive issues, as well as those recovering from surgery or illness.
Different probiotic strains can assist with different ailments or concerns. Be sure to speak with your doctor if you're looking for a probiotic to help support anything other than general wellness and gut health, as they may have specific strain recommendations.
When it comes to any supplement, make sure they're from reputable brands prioritizing quality and testing for purity and potency. Here are a few trusted probiotic and prebiotic supplements I recommend looking into.
Jarro-Dophilus EPS delivers over 10 billion CFUs (colony-forming units) per serving, making it one of the most potent probiotics on the market. Each dose is rich in Bifidobacterium breve, Lacticaseibacillus casei, Lacticaseibacillus rhamnosus, and other beneficial bacteria for optimal gut health.
Pros
10 billion CFUs
8 probiotic species
Gluten-free
Vegetable capsules
Enterogaurd coating to protect from stomach acid
No refrigeration needed
Easy to swallow
Cons
Contains traces of milk and soy
More expensive than other probiotics
NOW Probiotic-10 provides 25 billion CFUs and 10 probiotic strains per serving. Its ingredients can withstand stomach acid and support immune function, according to the manufacturer. This is one of the few probiotics that contain no traces of milk, eggs, soy, or other animal foods.
Pros
25 billion CFUs
10 probiotic species
Dairy-, soy-, and gluten-free
Supports immune function
Suitable for vegetarians
Cons
Must be refrigerated
Features a proprietary blend (so you don't know how much of each ingredient you're getting)
This prebiotic from NOW Foods offers 2.8 grams of inulin per serving. Inulin balances the gut flora and may reduce intestinal inflammation, among other health benefits.
Pros
Organic inulin derived from blue agave
2.5 grams of fiber and 2.8 grams of inulin per serving
Manufactured in an allergen-free facility
Contains no artificial sweeteners or other fillers
Suitable for vegans and vegetarians
Cons
May cause bloating and gas
Synbiotic+ features 11 billion CFUs of good bacteria, plus prebiotics and inactive microorganisms for gut flora support. These beneficial ingredients come in delayed-release capsules, allowing them to reach the colon intact.
Pros
A unique blend of probiotics, prebiotics, and postbiotics
11 billion CFUs of probiotics per serving
Delayed-release capsules
Suitable for vegans
Processed in an allergen-free facility
Doesn't require refrigeration
Cons
FAQs
Can you take probiotics with antibiotics?
Yes! There is currently no research stating that probiotics make antibiotics less effective, and probiotics may help reduce the negative side effects of antibiotics by keeping more beneficial gut flora intact.
Can you take prebiotics with antibiotics?
Yes, it's safe to take prebiotics along with antibiotics. This combo can counteract the effects of antibiotics on the gut flora, reducing digestive discomfort. 
Who should take probiotics and prebiotics?
While it's easy to get probiotics and prebiotics from food, some people may benefit from taking them in supplement form. Speak with your doctor about this option if:
- You're taking antibiotics or other medications that can disrupt the gut flora
- You have IBS, inflammatory bowel disorders, or diarrhea
- You struggle with recurrent urinary tract infections or bacterial vaginosis 
- Your immune system is weak because of stress, surgery, chemotherapy, or underlying health conditions 
Prebiotics and probiotics: The perfect combo for gut health
Not only does taking probiotics and prebiotics together promote gut health, but it can also increase the effectiveness of the probiotics and keep your digestive system running smoothly.
Remember, not everyone needs prebiotic and probiotic supplements. You can also get these nutrients from whole grains, fruits, veggies, and legumes, and fermented foods.