Buffalo Chicken Flatbread is spicy, tangy, and so easy to put together. It's the perfect game day appetizer to serve alongside naan pizza or main course for an easy weeknight dinner!
Why You'll Love This Recipe
Real buffalo flavor! We use actual buffalo sauce, not a substitute or homemade variety.
Quick and easy. Pre-cook the chicken for an easy weeknight dinner or appetizer that comes together in less than 15 minutes.
A great appetizer. Buffalo chicken is a crowd-pleaser. Just slice the flatbread into strips or squares for an easy finger food.
Jump to:
🛒 Ingredients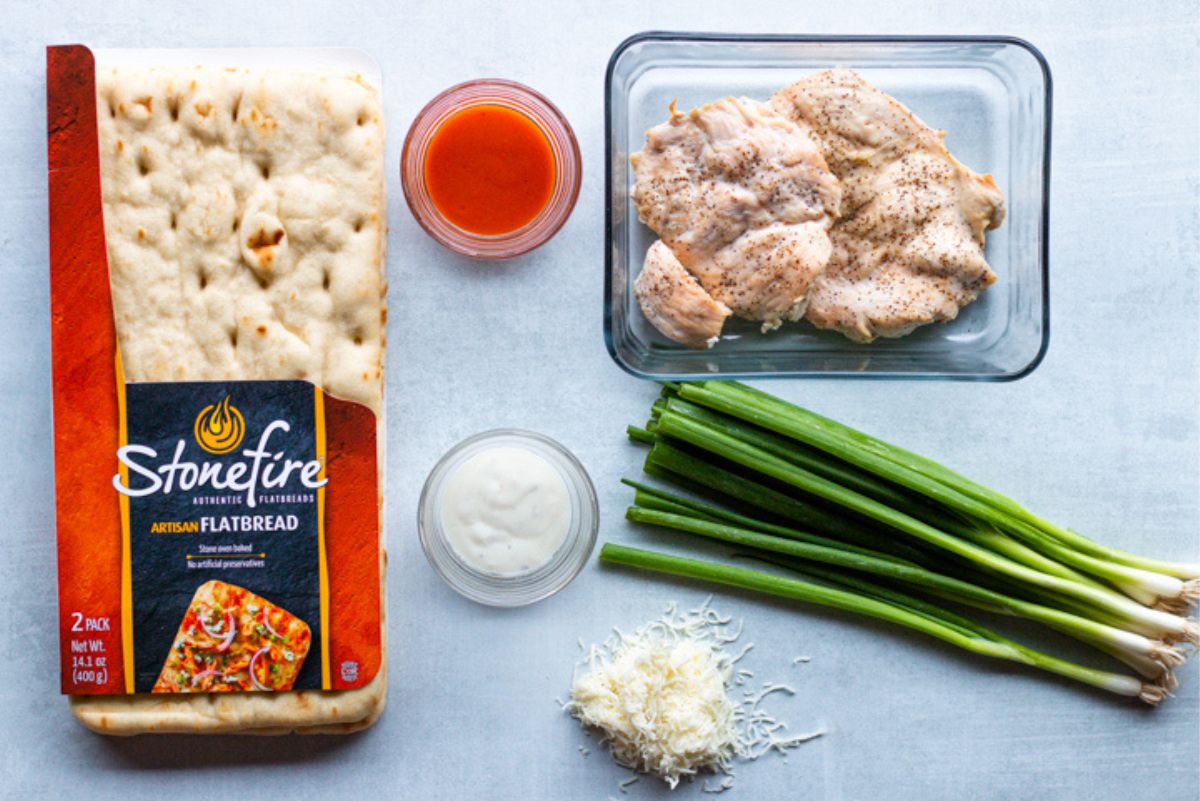 Flatbread- You can use traditional flatbread, naan, or even mini flatbreads if you want to make individual pizzas.
Chicken- The recipe calls for cooked, chopped chicken. I baked my chicken by seasoning with salt and pepper and baking for 30 minutes or so at 375 degrees. I chopped the pieces up into small ½ inch pieces. You could make your chicken in the crockpot, pressure cooker, or buy a rotisserie chicken to make it even easier.
Buffalo sauce- To make this super easy, I just used a store bough buffalo wing sauce. If you want to go the homemade route, try this homemade buffalo sauce!
Mozzarella cheese- When it comes to mozzarella cheese, you have a few options. You can shred block cheese, buy it pre-shredded to make things easier, or if you really enjoy the taste of fresh mozzarella (who doesn't?) just slice thin and use that on top.
Blue cheese dressing- You could use blue cheese crumbled, but I love the extra creaminess that the dressing adds to the flatbread. The buffalo sauce is used sparingly, so it's not super saucy unless you opt for the blue cheese dressing.
Green onions- Sliced thinly and used as a topping, you could skip this part, but I wouldn't recommend it!
Light olive oil- Use light olive oil or avocado oil instead of Extra virgin olive oil as you will be baking the buffalo chicken flatbread at high heat.
See recipe card for quantities.
🥣 Step by Step Instructions
Preheat the oven and prep a sheet pan with parchment paper. Add the flatbread and brush lightly with olive oil.
Bake the flatbreads for 5 minutes until warmed and just starting to crisp. This step is important (unless you like a soggy crust).
Remove the flatbread from the oven and spread the buffalo sauce on top. Sprinkle with diced chicken and mozzarella cheese, then drizzle with the blue cheese dressing.
Bake until the edges are slightly browned. To get a pretty baked cheese effect, place them under the broiler on high for the last couple of minutes.
Sprinkle the flatbread with sliced green onions and additional buffalo sauce and blue cheese if desired.
🗯 Pro tip
Make sure you preheat the oven and bake the flatbread for 5 minutes before adding your toppings. If you skip this step you will end up with a soggy flatbread. No one wants that.
🛍Substitutions
Chicken - You can use baked, slow-cooked, or grilled chicken breast, ground chicken, or even pre-cooked shredded chicken for this recipe.
Cheese- Instead of mozzarella, try a mild cheddar or sprinkle on some blue cheese crumbles.
Crust- Use flatbread, naan, a pre-made pizza crust, or homemade! Keep the toppings the same, but follow the directions on baking the crust if you use something besides flatbread.
Make it vegetarian- Use a plant-based chicken or seitan to make this a vegetarian buffalo flatbread.
🥙How to prep ahead
Here are some tips to save on time the day of cooking this recipe:
Pre-slice the green onions.
Make the chicken ahead of time in the oven, slow cooker, or instant pot.
📦 How to Store and Reheat Buffalo Chicken Flatbread
Let the flatbread cool and store in a covered container in the refrigerator for up to 2 days.
To reheat, preheat the oven to 350 and bake for 5-7 minutes until warmed through and crispy.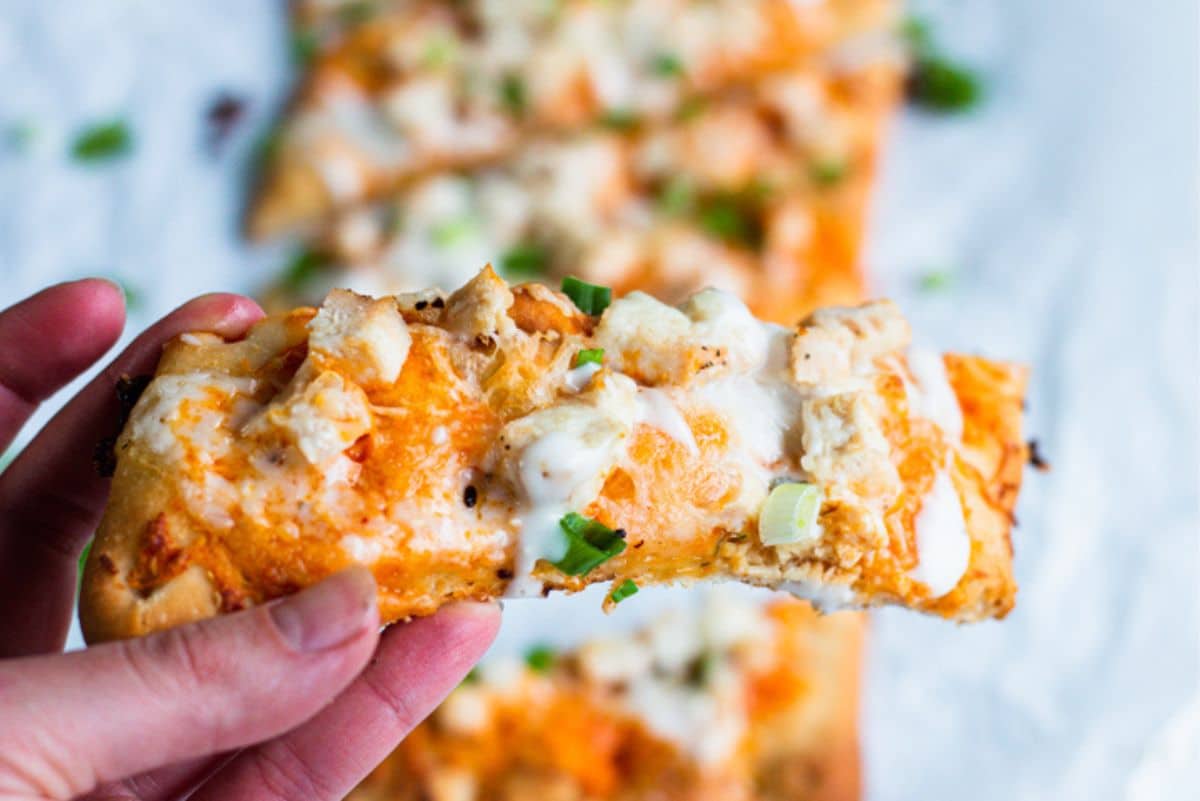 FAQ'S
How many calories are in buffalo chicken flatbread?
One serving (⅕ of the recipe) of buffalow chicken flatbread has 340 calories.
What is buffalo chicken pizza made out of?
Buffalo chicken pizza is made with diced chicken, spicy buffalo sauce, tangy blue cheese dressing, creamy mozzarella cheese, and sliced green onions. The flavors combine for a perfectly spicy, tangy, and fresh tasting pizza.
Is flatbread healthier than pizza?
Depending on the type of flatbread used, it may have more or less calories and carbohydrates than a pizza crust. The toppings used on the pizza or flatbread determine most of the nutritional difference, not the crust itself.
♻️ Make it Sustainable
To use up all of the green onions, mince the white part and add to the pizza before baking. Top with the sliced tops after you take the flatbread out of the oven.
Did you make this recipe?
Leave a ⭐️ Rating
Snap a photo and tag me on INSTAGRAM or share it on FACEBOOK and tag me!
Print
Buffalo Chicken Flatbread
This buffalo chicken flatbread is the perfect quick party appetizer or weeknight dinner. Spicy and tangy buffalo sauce marries cool and creamy blue and mozzarella for a flavor explosion you won't want to put down!
Prep Time:

10 minutes

Cook Time:

20 minutes

Total Time:

30 minutes

Yield:

5

1

x
Category:

Appetizer, Dinner

Cuisine:

American
2

flatbreads (14.5 ounce of equivalent )

2 teaspoons

light olive oil

½ cup

buffalo wing sauce (more if desired)

1 ½ cup

diced cooked chicken (approximately

¾

pounds)

1 cup

shredded mozzarella cheese

⅓ cup

blue cheese dressing

⅓ cup

sliced green onions (

3

green onions)
Instructions
Preheat the oven to 425 degrees F.
Place flatbreads on a parchment paper lined sheet pan and brush the edges lightly with olive oil.
Bake the flatbreads for 5 minutes until warmed and just starting to crisp.
Remove from the oven and spread the buffalo sauce evenly over both flatbreads. Sprinkle diced chicken and mozzarella cheese on top. Drizzle the blue cheese on top.
Bake for 12-15 minutes until edges are slightly browned. To brown the tops, place under the broiler on high for the last 1-2 minutes.
Remove from oven. Sprinkle with sliced green onions and additional buffalo sauce and blue cheese if desired.
Notes
** All nutrition information is an estimate only. The nutrition information will vary depending on ingredients and amounts actually used in preparations. 
Like a lot of buffalo sauce or blue cheese? Start with the recommended amounts and add more at the end if you need to. Adding a little extra on top adds great visual appeal along with the extra flavor and sauciness.
Cut into small squares for an easy appetizer or large slices for dinner. Serve with  a side salad for a complete meal!
Keywords: Appetizer, Chicken, Lunch, Pizza, summer
If you made this recipe and love it-- Don't forget to leave a ⭐️STAR RATING along with comments on what worked, what didn't, and any adaptations that made this uniquely yours!