Is fasting after a binge the best solution? Read to learn why this strategy is bound to backfire and what you can do instead!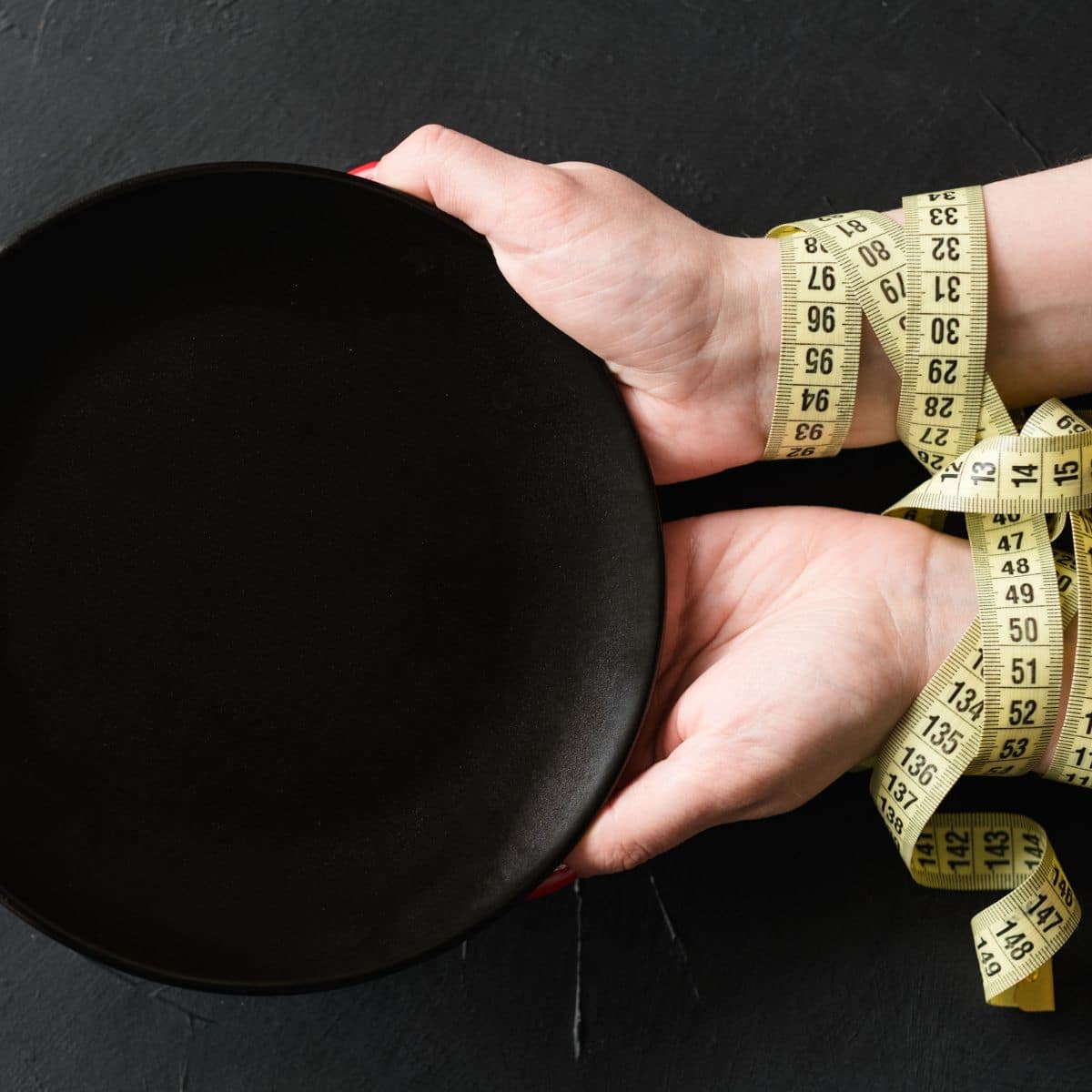 You promised yourself you wouldn't binge again, but here you are, uncomfortably full after yet another night devouring all your favorite treats. You thought you'd have more willpower this time to fight off the hunger. As the guilt and shame set in, you commit to a fast.
Although fasting after a binge may be tempting as a way to "undo" the calories consumed, it won't prevent future binge eating or help you feel in control around food. Sure, restricting food after overeating might give you a brief sense of relief, but the overwhelming hunger pangs are right around the corner.
If you're thinking about another fast to get back on track with your diet after a binge, keep reading to learn more about how restricting food increases overeating, the effects of binge eating and fasting, and what to do after a binge instead of fasting.
What is a binge?
Binge eating happens when you eat large amounts of food quickly. During a binge, it can feel really hard (impossible, even) to stop eating when you've had enough. Eating can continue into feeling physically uncomfortable all the way to feeling downright sick. This excessive food consumption is often partnered with feelings of distress, guilt, and shame during and after a binge episode.
Everyone overeats from time to time. What makes binge eating different is that it's usually done in secrecy and is accompanied by feeling out of control around food.
You may find yourself binge eating in response to emotional distress, restricting food, or being preoccupied with your body shape and size. It's also common for people who binge to have a distorted body image and be overly critical of their appearance and weight.
Some may engage in compensatory behaviors like fasting, purging, or excessive exercise after binge eating. These behaviors are done in an attempt to reverse the effects of binging to avoid weight gain.
Although people with binge eating disorder (BED) don't purge after binging, they often try to diet or restrict food, which leads to more binging.
Talk with your doctor or therapist if you think you may have BED or are struggling with any compensatory behaviors after a binge.
Even if you don't have BED, you may still struggle with occasional binging episodes.
How dieting and restriction increases binge eating and overeating
Emotional and physical responses play a key role in how dieting increases binge eating and overeating.
When you restrict food, such as during a diet or fast, you're more likely to crave it. This preoccupation with food builds up and may trigger binge eating.
There comes a time in every attempted diet or fast when you eventually break a food rule or eat the "forbidden" food. This can result in stress, guilt, and shame, which can prompt overeating or using food to cope with uncomfortable negative emotions. 
A 2019 study determined that college women with weight-related guilt and shame who did not practice intuitive eating were more likely to binge eat than those who experienced these feelings but scored high on the intuitive eating scale.
Lastly, when you restrict food for prolonged periods, your body's natural survival mechanisms kick in to ensure that you eat. Hormonal changes increase hunger signals and make it difficult to maintain rigid dieting, leading to overeating or binge eating, no matter how much willpower you think you may have.
Effects of a binge
Binge eating can have negative effects on your physical and emotional health.
Physical discomfort: Bloating, abdominal pain, constipation, or diarrhea may occur during or after a binge.
Weight cycling: Although weight isn't a primary indicator of health, weight cycling from binging and then fasting can lead to inflammation in the body.
Health conditions: Binge eating, which ignores gentle nutrition and hunger signals, may increase your risk of developing diabetes, high blood pressure, and heart disease.
Emotional distress: It's common to feel guilt, shame, and low self-esteem after a binge which can lead to additional binging, isolation, depression, and anxiety.
Effects of fasting
Fasting is a form of dieting where calorie-dense foods and drinks are withheld. This could mean limiting all calories for extended periods of time or severely restricting calories.
You may have heard of intermittent fasting (IF), as it's grown in popularity over the last several years. IF is characterized by fasting for a specific number of hours each day and having a reduced set time window for eating.
Recent research indicates that IF is associated with increased disordered eating behaviors, particularly binge eating. The study found that those who fast were more likely to binge eat than those who had never fasted.
Psychologically, you may find that you feel more obsessed with food during a fast. As mentioned earlier, when you restrict food or label something as "off limits," you naturally begin to think about it and want it more.
Tell yourself you can't have ice cream, and you'll find yourself thinking about ice cream more than ever.
Additionally, going long periods between eating slows your metabolism. A new study found that the body's metabolism slows to balance the lower amount of calories eaten when dieting. Fatigue, constipation, and low mood are a few signs that could indicate a sluggish metabolism.
Why fasting after a binge is the worst thing you can do
Fasting after a binge will likely lead to another binge. This is called the binge-restrict or restrict-binge cycle.
This cycle begins with food restriction or fasting, usually with the desire to lose weight or maintain a certain body size. While these are the most common reasons, it could also be related to an unhealthy desire to "be healthy." With so many diets promoting fasting and calorie restriction as a way to improve health, more and more people are fasting for this reason as well.
Prolonged deprivation then leads to intense cravings and a preoccupation with food.
As hunger hormones like neuropeptide Y and ghrelin increase, you start to feel physical and psychological signs of hunger. While you may be able to hold off for a little while, this drive to eat builds and builds until it results in binge eating, along with feelings of guilt and shame.
If you choose to fast again in an attempt to make up for overeating, the cycle will continue.
This type of relationship with food is common among people who chronically diet or struggle with disordered eating.
Overcoming this cycle not only helps you feel better physically but can also improve your focus, mood, and energy levels. If you need more motivation to make some changes to your eating patterns, the binge-restrict cycle is associated with depression, poor body image, and chronic disease.
What to do after binge eating instead of fasting
Instead of fasting after a binge, try one (or many) of these healthy strategies to get yourself back on track.
Show yourself some compassion
While it's easier said than done, try to avoid being over-critical of yourself. Binge eating and body size do not define your self-worth. Instead of beating yourself up inside, practice kindness, compassion, and understanding.
Understand that feelings of guilt and shame are normal after binge eating, but they aren't deserved. Journaling during this time can be a great way to shift your focus. One way I love to journal after times like this is to first write out how you're feeling and why, then shift into writing about the things you're grateful for and what you love about yourself that aren't defined by your binge.
Brush up on intuitive eating
Instead of starting another diet, consider adopting a balanced eating pattern by learning more about and implementing the 10 principles of intuitive eating. Take the time to learn your body's hunger and fullness cues, disengage with the food police, and apply gentle nutrition.
When you're feeling distraught about a binge and wanting to do something about it, grab a book and immerse yourself in productive learning instead. Crack open any of these top books on intuitive eating to learn about the science and benefits of taking steps to trust your body.
Hydrate
Drink plenty of water to restore your body's fluid balance and support digestion after a binge. And no, this doesn't mean you should just drink water when you're hungry. When you're hungry, eat, but make sure you're drinking plenty of water as well. Staying hydrated is essential for regulating body temperature, carrying oxygen and nutrients throughout your body, and lubricating joints.
Engage in self-care activities
Prioritize activities that make you feel good. Take a warm bath, read a book, go for a walk, journal, or listen to music. Activities you enjoy will redirect your focus away from the binge so you can treat yourself with respect and compassion.
This can be a great time to reach out to those you love as well. Catching up with a good friend, meeting up for a walk, or setting a date to do a fun activity you love with others does wonders for your mood and self-confidence.
Reach out for help
If binge eating or the binge-restrict cycle is disrupting your life and causing you distress, don't hesitate to reach out for help. A registered dietitian and mental health professional can provide you with the tools and support you need to break the cycle and build a healthier relationship with food.
Bottom line
Although you may feel the desire to fast after a binge, resist the urge and consider other coping skills instead. Remember, fasting or dieting after a binge only increases your chances of overeating again. Self-compassion, adequate hydration, and movement are all nurturing ways you can respond after a binge to break free from the binge-restrict cycle.