Lavender teas, coffees, and lattes have become a popular drink available at coffeehouses, but often with a steep price! Learn how to make your own DIY lavender syrup for coffee and enjoy a floral flavorful coffee at home.
I am a huge lover of lattes, but living in the middle of no where means I have to drive at least 20 minutes to buy one. I'm not sure who has time for that, but it's not me!
Making your own lavender syrup for coffee, lattes, or even cocktails is super simple, cheap and only takes a few minutes to whip up!
Ingredients for Lavender Simple Syrup
To make your lavender syrup you only need a few ingredients: culinary grade lavender (dried or fresh), water, and sugar.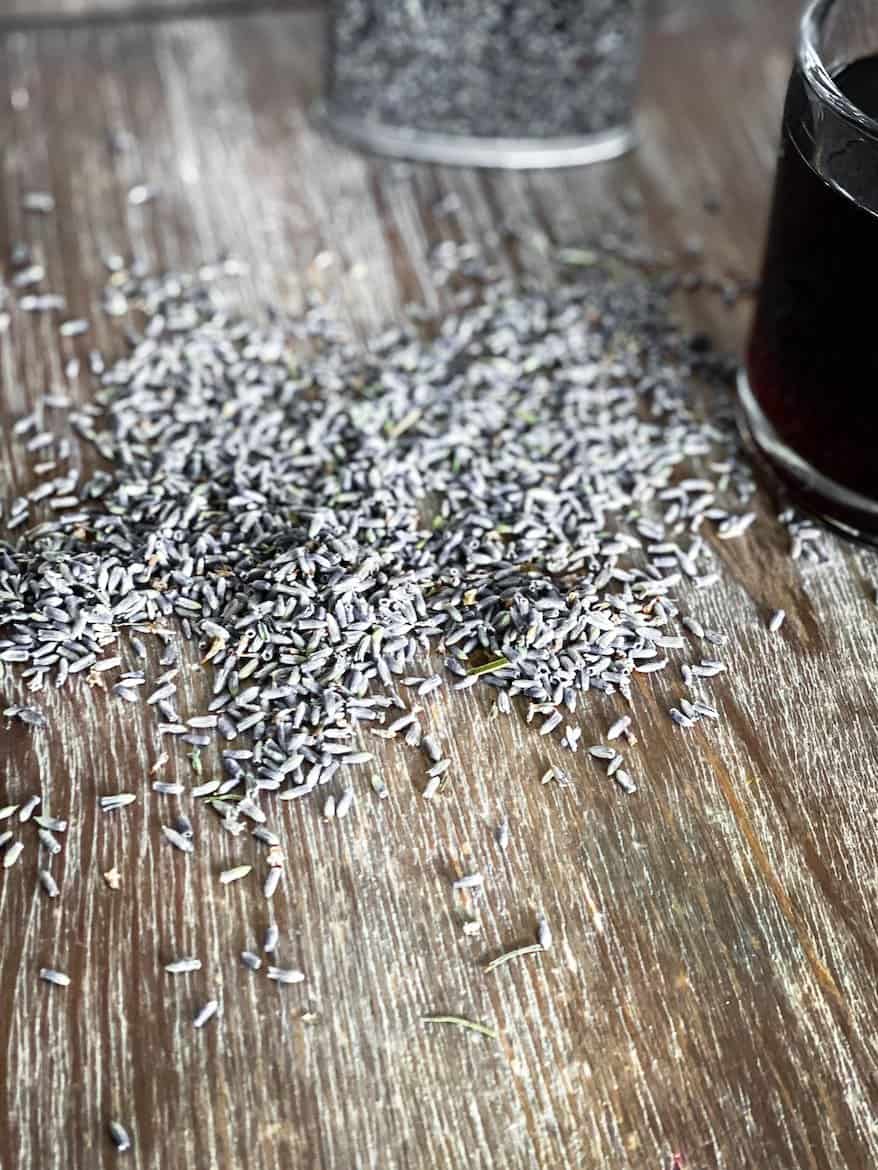 What is culinary grade lavender?
If you are shopping for lavender to use in food or beverages, you will want to make sure you are buying culinary lavender.
Most often culinary lavender is English lavender, or Lavandula angustifolia, which has a sweeter taste than its French counterparts.
The most important reason to make sure the lavender you purchase is marked as culinary is due to the pesticide content. Lavender that is grown for its scent or appearance only is often laden with chemical pesticides while the culinary variety is not.
You can purchase culinary lavender at your local herb shop, Mountain Rose Herbs, or an Etsy shop like Lavessence. If you grow you own, that's even better!
What kind of sugar to use in lavender syrup
You can use sugar beet sugar, cane sugar, or coconut sugar in this recipe without changing ratios.
How to Make Lavender Syrup for Coffee
The recipe for lavender simple syrup that can be used in coffee, tea, lattes, or cocktails is a basic simple syrup recipe that can be flavored many ways.
To add the aroma and flavor of lavender, you just add 1 tablespoon of dried lavender. If you have fresh lavender available, use 2 tbsp.
First, combine the water and sugar in equal parts in a small pot on the stove. Bring the mixture to a boil and stir until the sugar is completely dissolved.
Add the lavender and let boil an additional minute. Remove the pot from the heat and let sit for 5 minutes. After 5 minutes, carefully strain the lavender buds from the syrup using a fine mesh strainer.
Pour the syrup into a glass jar. This syrup kept well for 2 weeks in the refrigerator. After 2 weeks the smell and flavor was slightly "off", so I wouldn't recommend keeping it longer than that.
How to use lavender simple syrup
Lavender Syrup in coffee
Use this syrup as you would any flavored syrup. Add 1 tablespoon (or more or less to your preference) to a brewed cup of coffee. If you are looking for a relaxing combination, try adding to an herbal coffee instead.
Lavender syrup in a Latte
One of my favorite ways to use this syrup is to make a homemade latte! Brew your coffee or herbal coffee as you normally would. Add 1 tablespoon of simple syrup. Then steam ¼ cup of milk (any variety will do!), froth, and pour on top!
Lavender syrup in a cocktail
If you use simple syrup already in a cocktail, try mixing it up with lavender for a fun twist on a martini with vodka or Tom Collins with gin!
Print
Lavender Simple Syrup
Use this lavender simple syrup to flavor your morning coffee and experience coffeehouse flavor without leaving your home!
Prep Time:

2 minutes

Cook Time:

5 minutes

Total Time:

12 minutes

Yield:

8 tablespoons

1

x
Category:

Drinks

Cuisine:

American
1 tbsp

dried lavender flowers

½ cup

water

½ cup

sugar
Instructions
Place ½ cup water in a pot and add ½ cup sugar. Bring to a boil and stir to dissolve.
Add 1 tablespoon of dried lavender flowers, leaving the pot to a boil for just 1 additional minute. Remove from heat and let sit for 5 minutes.
Strain the lavender buds from the syrup and place the syrup in a glass jar.
Once cooled, cover with lid and refrigerate. This syrup will keep in the refrigerator for up to 2 weeks.
Notes
Avoid adding too much lavender to the syrup. Too much will lead to a more bitter taste. 1 tablespoon (+/- 1 tsp) is enough to add a delicate flavor without being bitter. 
Syrup can be added alone to coffee or can be used to make a delicious lavender latte. You can even use this in place of regular simple syrup for a fun cocktail! 
Nutrition
Calories:

47

Sugar:

13

Carbohydrates:

13
While this recipe is mainly for flavor, there are many benefits to drinking lavender tea!