It can be overwhelming at first to figure out what foods are vegan and which aren't. Use this vegan food list for beginners + vegan grocery list to help you start your vegan journey with confidence!
While many people think that being vegan is only about what you eat, veganism is truly a lifestyle. You might decide to become vegan for your health, the environment, or ethical reasons.
Vegan diets are typically healthier than other ways of eating because they're high in fiber, low in saturated fats, and cholesterol-free.
If you're used to including animal products in your diet, you might be wondering what you actually can eat. 
That's where this list comes in! We'll travel through the grocery store so that you can stock your pantry, refrigerator, and freezer for a well-balanced vegan diet.
What is a Vegan Diet?
Veganism is more than just what you eat. Veganism is a lifestyle that rejects animal products in all forms and strives to avoid harming any animals. This includes what you eat, wear, and use. Veganism is the belief that every living being deserves respect and humane treatment.
What is the difference between a vegan diet and a plant-based diet?
Oftentimes, a vegan diet and a plant-based diet can be confused as one and the same.  Vegan diets do not include any animal products, while plant-based diets can still sometimes involve meat, dairy, or eggs.
Veganism is more about the lifestyle choices a person makes to avoid using animals in all forms and that includes what you eat as well as wear or use around your home.
Plant-based eating only includes what you eat. Some people may choose to eat a limited amount of animal products on a plant-based diet. So, essentially a vegan diet is plant-based, but a plant-based diet isn't necessarily vegan.
This vegan grocery list is perfect if you're new to any sort of plant-focused eating, including vegan, vegetarian or plant-based.
Vegan Food List For Beginners
You might be focusing on the foods you can't eat on a vegan diet, but there are so many delicious and nourishing foods you can enjoy!
Fruits
Vegetables
Whole grains and cereals
Legumes
Soy products
Milk and dairy alternatives
Herbs, spices, and condiments
Processed and packaged foods- including a number of accidently vegan foods!
Fruit
Any and all fruits are an essential part of a vegan diet.  Fruits are packed full of nutrients like vitamin C, folate, potassium, and fiber, as well as antioxidants.
While fresh fruit can seem optimal (hello fridge full of fresh produce!), canned, dried, and frozen fruits are great to keep around as well.
Fresh Fruit
Buying seasonal fresh fruit will taste the best and you can often take advantage of sales. Buy only the fresh fruit you know you'll eat throughout the week (or can freeze) to help limit food waste.
Apples
Pears
Berries: strawberries, blueberries, raspberries
Melons: cantaloupe, watermelon, muskmelon
Bananas
Pineapple
Mango
Kiwi
Grapes
Citrus: oranges, limes, lemons
Stone fruit: peaches, plums, apricots, cherries
Canned Fruit
A canned option may be better for your budget and a good way to include out-of-season fruits. I like to keep a few cans of fruit in the house so we always have an option for fruit. Just be sure to choose the canned fruit in 100% fruit juice or with no added sugar.
Pears
Peaches
Pineapple chunks
Mandarin oranges
Applesauce
Dried Fruit
Dried fruit is great to have around to add to trail mix, granola, yogurt, and baked goods. Since they're dried, the nutrients are condensed, and they can be higher in sugar.
Raisins
Dried cherries
Dried mango
Cranberries
Dried pineapple
Dates
Dried apples
Frozen Fruit
Frozen fruit is a great way to eat fresh out-of-season fruits like berries and stone fruit. Frozen fruit is often picked at its peak then frozen within a few hours which helps to retain most of its nutrients.
Berries: strawberries, blueberries, raspberries
Pineapple
Stone Fruits: peaches, cherries
Bananas: either purchased frozen or fresh, then frozen for smoothies!
Mango
Papaya
Get your FREE Fruit and Veggie Storage Guide to keep your produce as fresh as possible after you bring it home!
Vegetables
A vegan diet, like any plant-based diet, is rich in vegetables. Veggies are packed full of nutrients like vitamin A, C, and K, minerals like iron and calcium, and fiber.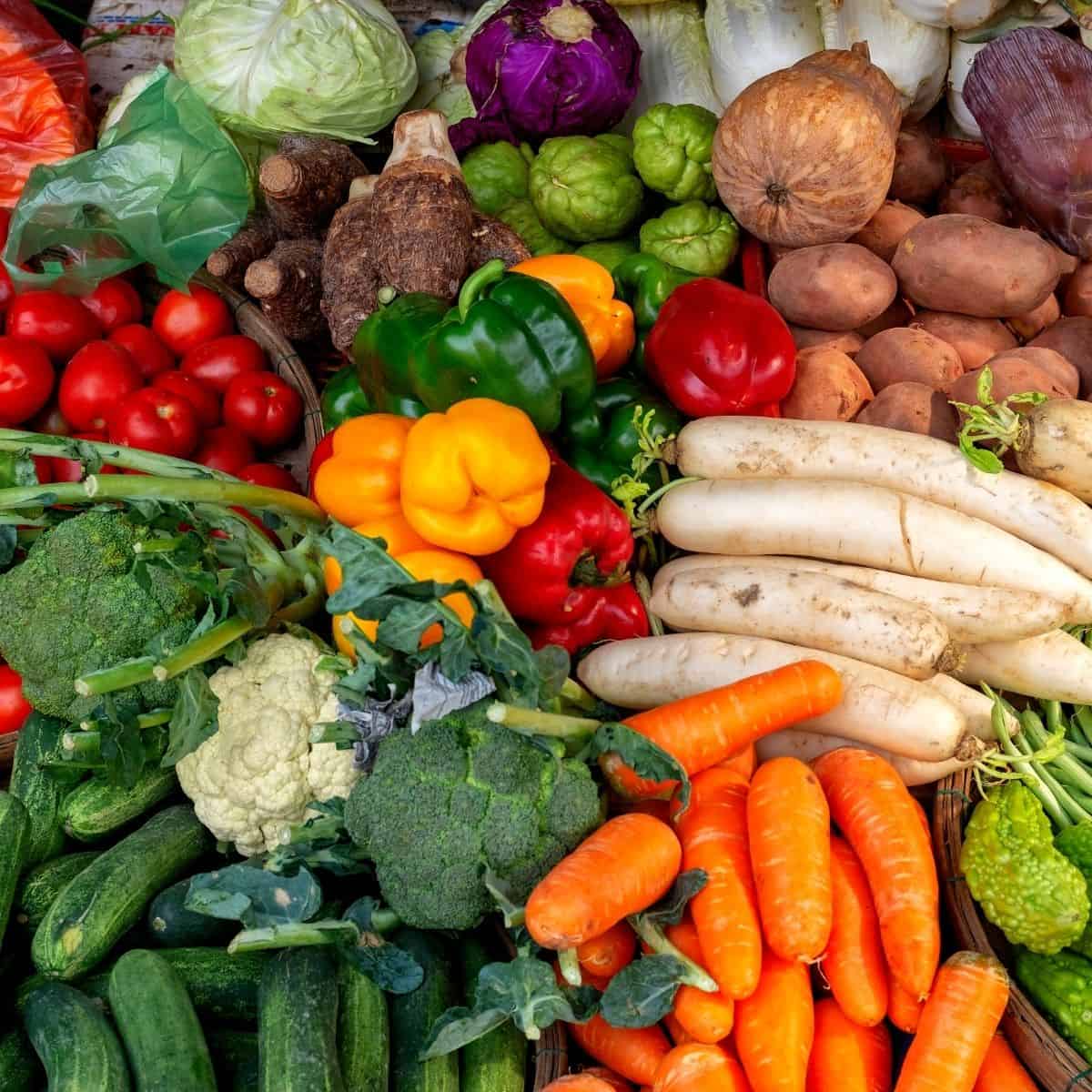 Fresh Vegetables
Keep fresh veggies on hand so that you always have some to throw together into a meal, snack, or side dish!
Make sure to plan out what you'll use in the week since many fresh vegetables have a pretty short shelf life. Thankfully, many fresh veggies can easily be frozen if you can't get to them in time.
Green beans
Cucumbers
Brussels sprouts
Cauliflower and broccoli
Cabbage- red and green
Zucchini and yellow squash
Tomatoes
Green beans
Mushrooms
Starchy veggies: potatoes, corn, peas, winter squash
Root vegetables: carrots, parsnips, radishes, turnips, beets
Leafy greens: iceberg or romaine, spinach, baby greens (arugula), kale, swiss chard, collard greens
Canned vegetables
Canned vegetables are a great way to have veggies on hand without having to worry about spoilage or waste. Just be sure to read the label and choose canned vegetables with reduced-sodium or no added salt. They taste much better and have less salt when you season them yourself!
Peas
Corn
Green beans
Beets
Artichoke hearts
Carrots
Pumpkin
Tomatoes and tomato paste
Frozen Vegetables
Frozen veggies are a great option to keep on hand for out-of-season produce or veggies that tend to spoil quickly.
Frozen vegetables are picked at their peak and then frozen within hours which helps to preserve the nutrients. Because of this, sometimes frozen vegetables actually have more nutrients than fresh ones!
Green beans
Leafy greens
Carrots
Peas
Corn
Brussels Sprouts
Broccoli
Squash
Whole Grains and Cereals
While a vegan diet is rich in fruits and vegetables, many of the calories come from whole grains and pseudo-cereals. Pseudo-cereals contain quinoa, amaranth, and buckwheat. These are similar to whole grains but are gluten-free and from a different family than other grain products.
Whole grains and cereals are rich in fiber, B vitamins, iron, zinc, and antioxidants. Opting for whole grains, instead of refined grains, ensures you're getting all of these valuable nutrients.
Whole grains
Amaranth
Brown rice, wild, and other colored rice
Buckwheat groats
Barley
Corn (cornmeal and popcorn)
Oats- rolled
Millet
Quinoa
Sorghum
Wheat flours and pasta
Legumes
Legumes are a vital part of a vegan diet. They're packed full of protein and nutrients like iron, zinc, folate (a B vitamin), calcium, manganese, potassium and magnesium.
Legumes include beans, lentils, and peas. I've included peas in the vegetable category, so here are the types of beans and lentil to look for.
Black beans
Garbanzo beans- aka chickpeas
Kidney beans
Pinto Beans
Navy
Fava beans
Adzuki beans
Black-eyed peas
Soy Products
Soy products are a great source of protein and iron. There are several ways to include soy in your diet. While there was some past controversy of the safety of soy, research has found that moderate soy intake can help reduce breast cancer risk, high blood pressure, and has heart-protecting properties.
Tempeh
Tofu
TVP: textured vegetable protein
Edamame: fresh soybeans
Soy milk
Soy protein powders
Cheeses and processed meats made from soy protein
Nuts and Seeds
Tiny but mighty, nuts and seeds are packed with essential nutrients for a vegan diet. They're great sources of protein, healthy fats, fiber, and other nutrients like iron, B vitamins, and omega-3 fatty acids.
Nuts
Almonds
Cashews
Macadamia nuts
Pecans
Walnuts
Brazil nuts
Pistachios
Pine nuts
Chestnuts
Hazelnuts
Nut butters: almond, peanut, cashew
Seeds
Sunflower seeds
Pumpkin seeds
Hemp seed
Flaxseed
Chia seeds
Sesame seeds
Poppy seeds
Seed butters
Herbs and Spices
Herbs and spices add a lot of flavor to vegan dishes. They not only enhance the taste, but they also help provide additional vitamins and minerals and can contain important phytochemicals and antioxidants.
Common Herbs and Spices
Turmeric
Coriander
Tarragon
Parsley
Basil
Oregano
Thyme
Rosemary
Sage
Mint
Chili powder and cayenne pepper
Curry
Mustard
Cinnamon
Condiments
Condiments are a great way to add flavor and make vegan recipes come alive. If you have a favorite condiment that contains animal products, chances are you can find a vegan version of it that's just as good too!
Apple cider vinegar
Soy sauce
Hot sauces
Salsa
Ketchup
Mustard
Vegan mayonnaise
Teriyaki sauce
Vegan Worcestershire sauce
Hot dogs and other processed meats made from soy protein
Vegan butter or margarine
Processed and Packaged Vegan Foods
Processed and packaged foods can have their place on a vegan food list for beginners and veterans alike. Because let's face it, we're busy and like the convenience! There are endless options today for vegan replacements that taste amazingly similar to their animal counterparts. Including some of these foods can make the transition to a vegan diet easier as well. 
Vegan Label Reading
If you're purchasing packaged foods from a non-vegan brand, there are a few things to look out for. First, check to see if there's a vegan identifier on the label. If not, here's what you don't want to see in the ingredients list:
Milk, milk derivatives, whey, lactose, casein
Collagen, elastin, gelatin, keratin, shellac, lard
Honey
Albumin, pepsin
Butter
Egg
Vegan "Meat" Alternatives
While many meat alternatives are not the "healthiest" option on a vegan diet, they can make transitioning to a meat-free life a lot easier! Many taste so similar to the real thing its difficult to tell it's actually vegan!
Burgers
Hot dogs
Seitan or "wheat meat" or vital wheat gluten to make your own vegan chicken
Chicken nuggets
Sausage
Packaged Foods
While there are several vegan brands that make specific packaged foods, there are also many other brands that accidentally make their food vegan. Be sure to check the label to be sure there are no animal products.
Cereal
Waffles
Canned soups
Vegan macaroni and cheese
Popcorn
Tortilla chips
Cookies- Oreos are accidentally vegan!
Vegan chocolate bars
Crackers
Frozen meals
Vegan Grocery List
Now that you know which foods you can eat on a vegan diet, we'll go through a typical grocery list to help you stock up on delicious vegan foods. While this is just an example, use the beginner's vegan food list above to create your own customized grocery list.
Pantry and Dry Goods
Dry beans, lentils, and peas (split peas)
Canned beans: black beans, kidney beans and pinto beans are my favorites
Canned or dried fruit
Canned vegetables
Vegetable broth and vegetable bullion cubes, including no-chicken and no-beef bullion
Canned soups (Amy's and Gardien brands)
Oatmeal- rolled or steel cut oats in packets or boxes
Whole grain pasta: including alternatives like lentil or chickpea pasta
Nuts and seeds
Olive oil, avocado oil and cooking spray
Soy sauce
Nutritional yeast
Textured vegetable protein
Baking supplies: whole wheat flour, vital wheat gluten, cornmeal, sugar, baking powder and soda.
Snacks: tortilla chips, protein bars, granola, popcorn (no butter)
Refrigerator Items
Tofu
Tempeh
Sietan
Vegan egg: try Just Eggs brand
Plant milk of your choice (can also purchase many brands in shelf-stable packs)
Vegan cheese: Daiya, Follow Your Heart, Miyoko's brands
Vegan cream cheese
Sour cream or cashew sour cream: Good Karma brand
Dips: hummus, guacamole, and salsa
Freezer Items
Frozen fruits
Frozen vegetables
Edamame
Vegan ice cream- try brands like So Delicious or Ben and Jerry's Vegan flavors
Vegan Frozen meals- try Sweet Earth, Amy's, and Kashi brands
Vegan Meat Replacements- try Quorn, Gardein, Lightlife, No Evil, Beyond Meat, Incogmeato brands
Fresh Foods
Fruit: apples, oranges, bananas, peaches, plums, pears, cherries, tomatoes, pineapple, mango, blueberries, raspberries, strawberries
Vegetables: Potatoes, carrots, green beans, broccoli onions, mushrooms, peppers, leafy greens like kale, spinach, swiss chard, and romaine
Now You're Ready to Go Vegan!
You've got the beginner vegan food list down and you're ready to get started.
The next step is making a plan for how to transition over from eating animal products to a plant-based diet. The first thing that I recommend doing is stocking up on some easy and delicious recipes. Head to the recipes section for flavor-packed and easy-to-make meals to start with!
If you're more of an Instagram fan, Come visit me at Graciously Nourished on Instagram and say Hi!