Whether you're new to plant-based eating or you've been at it for years, check out my top 10 books on plant-based diets in 2021 to inspire your next read!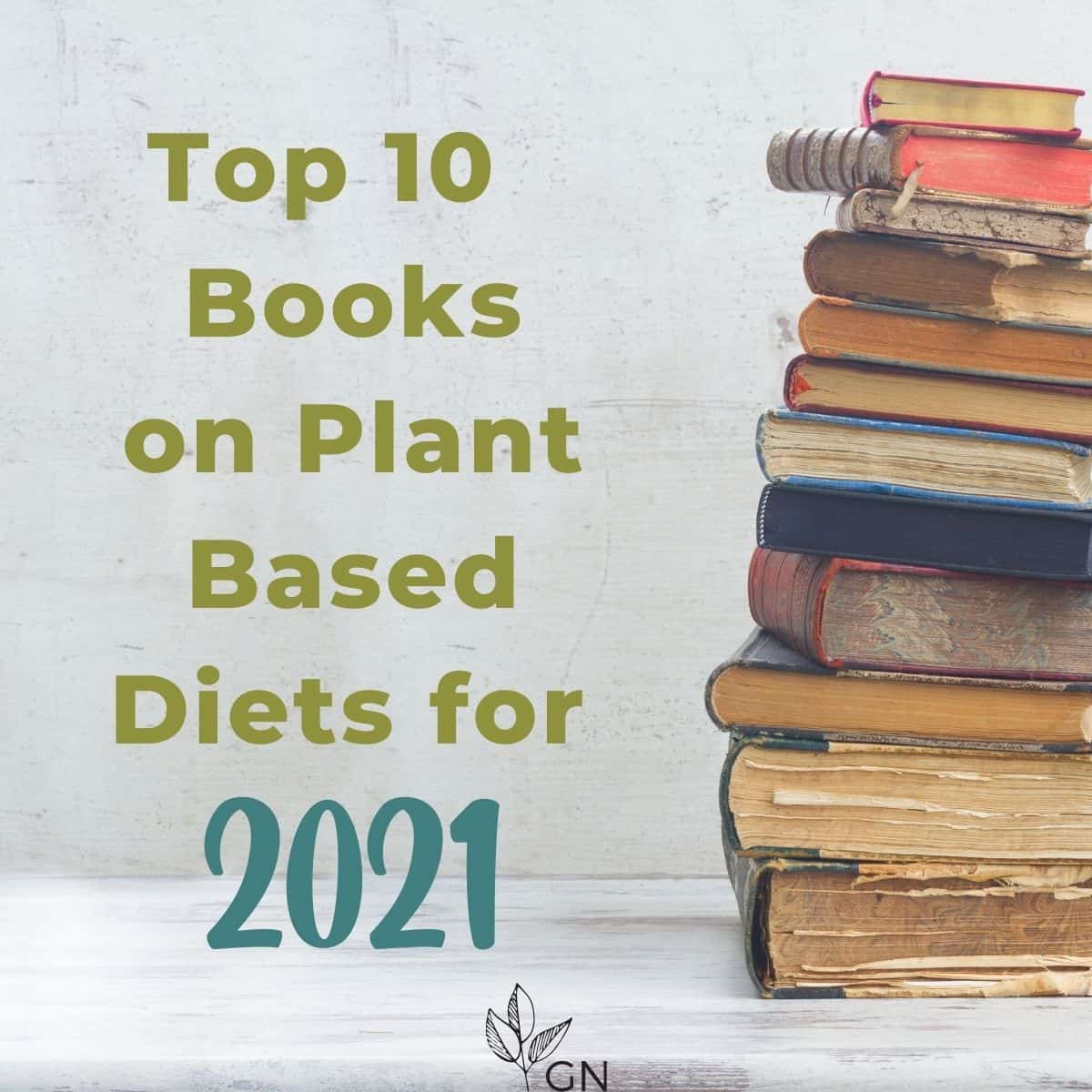 This post may contain affiliate links. This means that (at no extra cost to you!) I could receive a small commission should you purchase through the link-- I only recommend products and resources I know, love, use, and/or trust!
Where do you go for information, recipes, or meal plans on plant-based eating? The internet is a great place to start, and I hope my little corner here at Graciously Nourished is top of the list! But, as I know you know, you can't believe everything you read on the internet.
The sheer volume of information available online can be overwhelming. Not to mention the amount of false information that is shared. A book, especially one written by an authority such as a doctor, dietitian, or other nutrition professional can be a great place to obtain factual and reliable information.
After all, it's your health you're concerned with. It's important to be selective of who and where you get your information from. Anyone who eats can claim they know something about nutrition. You have to be careful who you accept your information from.
Aside from learning about plant-based eating, I've included 5 of my favorite vegan and vegetarian cookbooks. After all, if you're going to eat plant-based, you might as well make it as delicious as possible!
What is a plant-based diet?
A plant-based diet does not have a rigid set of rules, rather, it has guidelines that you can follow. I want to emphasize that I'm not referring to a whole food plant-based diet (WFPB).
Not that I don't believe a WFPB diet is healthful, as there is a lot of evidence supporting it. I do believe that the number of restrictions and rules that come with WFPB eating can be a breeding ground for disordered eating.
So yes, some of these books are WFPB, but some are not.
When I talk about plant-based eating, I'm referring to the style of eating that:
Minimizes (or excludes) the consumption of animal products.
Prioritizes fruits, vegetables, and other whole plant foods.
Does not necessarily eliminate any food groups unless the person chooses to do so.
So yes, plant-based eating can include animal products, but don't expect to find any recipes or resources in my list that advocate for them.
Benefits of Plant-Based Eating
People turn to plant-based eating for a variety of reasons. While you may have started plant-based eating for one reason, the other motives will quickly start to grow on you!
Improved health. Plant-based eating can work to prevent some diseases and potentially reverse others. You may even feel better and have more energy as an immediate benefit.
Protect the environment. The amount of meat that our world eats today uses significant resources such as water, land for pasture, and land for growing feed. The animals themselves contribute to the pollution of waterways and the warming of the climate. Limiting animal products can decrease your carbon footprint.
Advocate for animal welfare. By not eating meat or animal products you're helping to protect animals from exploitation.
Top 10 Books on Plant Based Diets for 2021
While a plant-based diet book Google search will bring up thousands of choices, I've compiled my top ten resources and cookbooks. Nutrition is an ever-changing and evolving science, so it's important to stick with current research. Several of these books were published in the past 1-2 years and are up to date with the most recent studies and recommendations.
Plant-Based Diet Books: Informational and Plans
Dr. Michael Gregor pleads his case for a plant-based diet as the way to prevent and reverse numerous diseases through well-cited research. This book is filled with studies and cases where a plant-based diet can help prevent even the most devastating diseases such as Alzheimer's, heart disease, cancer, and more.
Your baby or toddler can thrive on a plant-based diet, and these two registered dietitians show you how. If you're looking to raise your young family without animal products, you'll gain confidence and amazing recipes with this book.
Gut health is a cutting-edge research topic, and we're learning more and more with each new study. Dr. Will Bulsiewicz, a certified gastroenterologist and gut health expert, dispels myths and explains the connection between what you eat, your gut, and the massive impact it can have on your health and your life. The book includes a guide, recipes, and a shopping list to make the process as easy as possible.
Written by two dietitians, Vegan for Life is an absolute must-read to do a vegan diet the right way. So many ex-vegans stop because they miss some important component of the diet that leaves them feeling less than great. This book is a great resource to make sure you're getting all the nutrients you need to thrive on a vegan diet.
If you've read Dr. Campbells' previous groundbreaking books, The China Study or Whole, then you need to get your hands on his latest dive into nutrition research. The book is rather science-heavy, so not the best option if you're looking for a light, fun read. As scientific as it is, it will change the way you think about mainstream nutrition recommendations, policy, and how what you eat impacts your health and the world around you.
Plant-Based Cookbooks
The Instagram Famous Toni Okamoto (seriously, follow her there if you don't already) proves that plant-based eating is as affordable as it is delicious. Her easy-to-prepare and low-cost recipes will have you making a different plant-based dinner every night of the week.
Easy to make and fun to look at, this book has a little something for everyone in it. The recipes are truly "fuss-free" and you're sure to find plenty of staple recipes you'll keep making again and again.
Bad Manners | Michelle Davis & Matt Holloway
All cursing and bad manners aside, this book is packed with flavorful and fun recipes for any season and time of day. One of the first vegan cookbooks I dove into, there hasn't been a recipe I've tried that didn't turn out amazing. Plus, as long as you're not easily offended, the content is entertaining as ****.
I've been a fan of Angela Liddon since my teens, if that didn't just age us both. The recipes in her original Oh She Glows cookbook were fantastic and had a big influence on my love for vegan cooking. In her new dinner's only book she brings what most of us are looking for in a cookbook- dinner recipes. You get several substantial recipes you can make any night of the week instead of smoothies, sweets, snacks, and other sometimes "fluffy" recipes that can fill cookbooks. This is a must-have for any Oh She Glows fan
So this one isn't 100% vegan, but it is vegetarian with plant-based adaptations to almost every recipe. I've included this here because it's been my go-to for breakfasts, dinners, snacks, and even cocktails. Kate has a way of packing vegetables into a dish in such a delicious and satisfying way that even the omnivores in your life will appreciate your cooking from here!
Which plant based book will you read next?
Whether you need a nitty-gritty science-packed nutrition resource or fun and flavorful cookbook, I hope you found your next book within this list!
If you're looking to make a sustainable purchase, consider buying your next book secondhand! Thriftbooks is my favorite place to purchase from to give pre-owned books another life. Use my affiliate link and get a Free Book credit after your first $30 spent.
Looking for more plant-based recipes?
22 Dietitian Approved Plant-Based Breakfasts to Start Your Day