Whether you're increasing your fiber for a healthier heart, to relieve constipation, or to feel more full at satisfied after meals, you can find all you need to know here and with the free high-fiber foods printable list!
Plant-based diets are associated with a lower risk of obesity, diabetes, heart disease, and overall mortality. These health benefits are partly due to the fiber in fruits, legumes, whole grains, and other vegetable foods.
A diet rich in fiber can also improve satiety after eating. Think about how you feel after eating a handful of almonds or a bowl of oatmeal. These foods fill you up quickly and suppress hunger, leaving you feeling energized for hours.
Fiber also helps move food through the digestive tract, keeping you regular (and who doesn't want that?!) Over time, it may improve gut health and reduce cancer risk.
However, switching to a high-fiber diet can be challenging, especially for those with a busy schedule. Plus, some foods contain too much or too little of this nutrient, making it hard to hit your fiber goals or can leave you feeling the consequences of too much fiber.
With that in mind, let's see what fiber can do for you and how to get more of it.
Jump to:
What is fiber?
Fiber is a non-digestible carbohydrate found in fruits, vegetables, whole grains, and other plant-based foods. This nutrient stays intact in the digestive system and isn't digested for energy in the same way that other carbohydrates are.
There are several different types of fiber found in a variety of plant foods, each with its own unique benefits.
What are the different types of fiber?
There are two main types of fiber: soluble and insoluble.
Soluble fibers, often found in fruits and vegetables, absorb water during digestion, forming a gel-like substance in your gut. As a result, they slow down the movement of food through the small intestine and increase satiety. 
The benefits of soluble fiber go beyond better digestion. When eaten as part of a balanced diet, this nutrient may also improve blood sugar control and lower blood cholesterol, leading to a lower risk of diabetes, heart disease, and metabolic syndrome. 
Apples and citrus fruits are rich in pectin, a soluble fiber that feeds good gut bacteria. Pectin acts as a prebiotic and may improve gut health. Studies also suggest it may boost immune function, reduce inflammation, and improve cholesterol metabolism. 
Barley, rye, oats, and other whole grains contain beta-glucan. Like pectins, this soluble fiber aids in digestion and protects against inflammation.
Some studies have found that beta-glucan may also suppress tumor growth due to its antioxidant and immunomodulatory effects, but what makes it stand out the most is its ability to lower blood sugar and cholesterol levels.
Bananas are naturally high in inulin, a prebiotic fiber that may enhance your body's ability to break down fats and absorb minerals. At the same time, it keeps your digestive system running smoothly and may prevent constipation. Chicory root, garlic, onions, and leeks are rich in this nutrient, too. 
Whole grains and some veggies are rich in insoluble fiber, which doesn't dissolve in water. After eating this type of fiber, it adds bulk to the stool and helps move food through the digestive tract. 
Most foods contain a mix of soluble and insoluble fibers. For example, the skin of some fruits and vegetables (e.g., apples) is rich in insoluble fiber, whereas the flesh boasts large amounts of soluble fiber.
A third category includes functional fibers, such as psyllium husk, chitin, and fructooligosaccharides. These compounds are usually extracted from plant-based foods and then added to supplements or processed foods. Some are used as prebiotics, food additives, or sugar substitutes.
Health benefits of fiber
Fiber not only supports digestive function but may also protect against diseases like cancer, heart disease, and diabetes. It can also lower inflammation and make it easier to maintain the healthiest weight for your unique body. 
According to the Linus Pauling Institute, people who eat at least 28.5 grams of fiber daily are less likely to develop breast, liver, or colorectal cancer than those eating fewer than 16.4 grams per day. 
The fiber in whole grains is particularly beneficial. In clinical trials, it has been shown to protect against diabetes, cardiovascular problems, and stomach cancer, notes the Linus Pauling Institute. 
In one study, people with diabetes who took 10 grams of psyllium per day had major improvements in cholesterol and blood sugar levels. Additionally, they experienced relief from constipation and lost up to 6.6 pounds within three months, with no negative side effects. 
A 2020 study found that beta-glucan, a soluble fiber in oats and other grains, may lower LDL (the "bad") cholesterol levels by 15% and total cholesterol by 9% in just two months, reducing the risk of heart disease. On top of that, it may reduce insulin and blood sugar levels by over 20%.
Other health benefits of fiber may include:
Reduced blood pressure
Lower risk of hemorrhoids
Improved appetite control
Improved glucose metabolism
Better weight management
Healthier gut flora
Fiber may also help prevent and reduce inflammation, a risk factor for chronic disease.
Inflammation also plays a role in the onset of depression, and therefore, high-fiber diets may help protect against this mental health disorder and may ease depression symptoms. 
How much fiber do you need?
The U.S. Department of Agriculture (USDA) recommends 25 grams of fiber per day for women and 38 grams per day for men or 14 grams for every 1,000 calories eaten daily. Yet, the average American eats only 16 grams of fiber each day!
The above numbers are not set in stone, though. For example, if you have certain digestive issues, such as irritable bowel syndrome (IBS), you may need more or less fiber, depending on your symptoms. Additionally, some types of fiber may worsen IBS and should be eaten with caution.
Generally, it's best to increase your fiber intake over time. Adding too much fiber to your diet too quickly can cause diarrhea, constipation, bloating, and digestive discomfort.
For example, you could start by eating an extra 5 grams of fiber daily for two weeks, adding another 5 grams over the next two weeks, and so on. Note that your body will need time to get used to the increased fiber.
Symptoms of too much fiber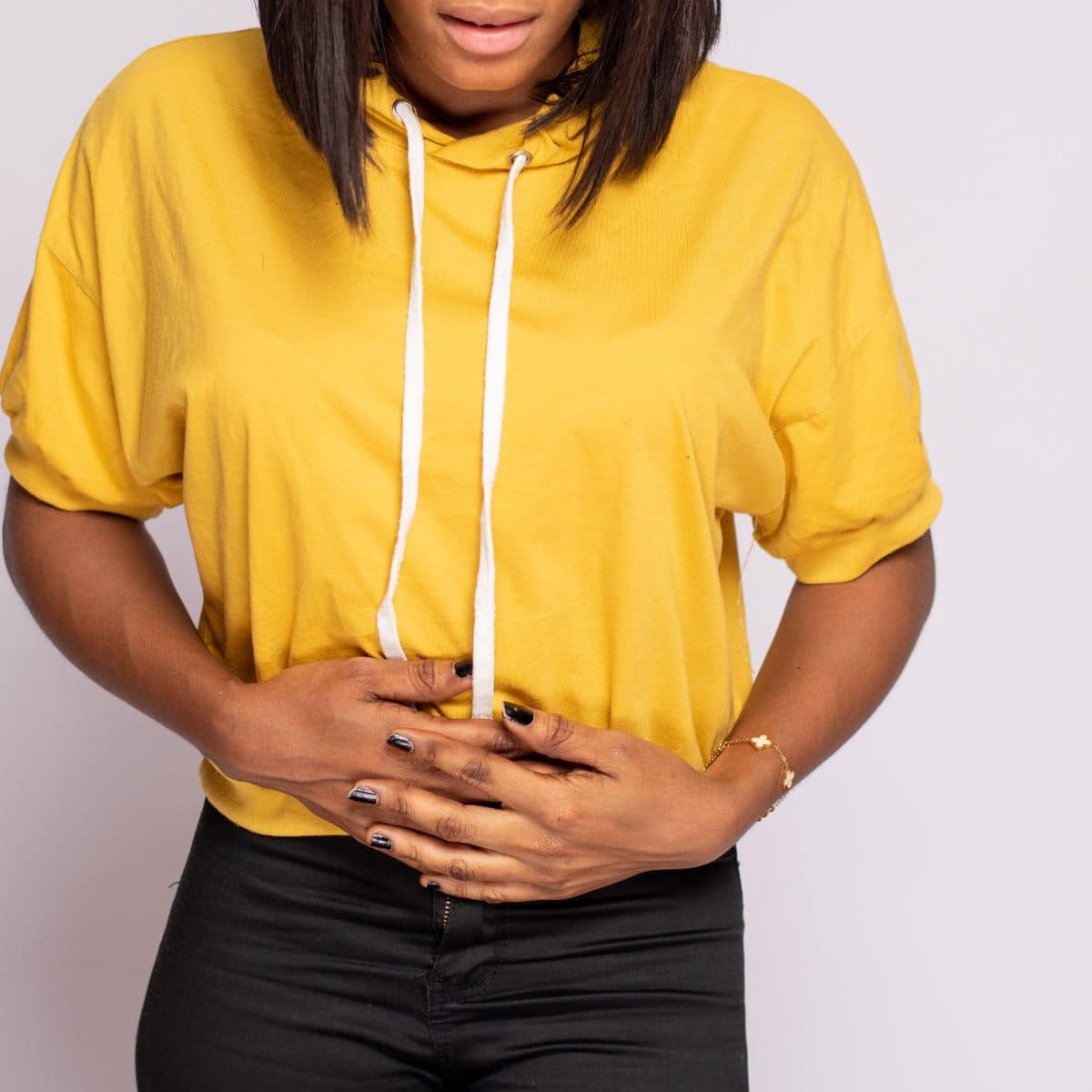 Like with other things in life, more isn't always better. Just because fiber is good for your health doesn't mean you should go overboard.
Eating too much fiber can actually worsen constipation or diarrhea and cause stomach pain. Other symptoms may include:
Bloating and gas
Loose stools
Impaired nutrient absorption
Loss of appetite
Abdominal discomfort
Bowel obstruction
Feeling full too quickly (which can lead to unintentional weight loss)
Temporary weight gain due to fluid retention and constipation
As of today, there is no tolerable upper limit for fiber. The best thing you can do is listen to your body and make changes as needed.
Check out these dietitian-approved high-fiber cereals and the list of high-fiber foods for inspiration. Take note of how your body reacts, and then adjust your fiber intake accordingly.
Easy tips for adding more fiber to your diet
Most plant-based foods contain varying amounts of fiber. The challenge lies in choosing those that pack the most nutrition and fit into your diet.
Some processed foods are rich in fiber, too, and can make eating more fiber convenient when eaten in moderation.
Check out the high-fiber foods printable list available below. But first, here are some easy ways to add more fiber to your diet.
Snack on nuts and seeds
One of the easiest ways to boost your fiber intake is to snack on nuts and seeds. Walnuts, almonds, cashews, pistachios, pumpkin seeds, and sunflower seeds are all great choices.
Roast them in the oven, eat them raw, or add them to homemade snacks to reap the benefits.
You can mix almonds, walnuts, and raisins or dates, lay them on a baking sheet, and sprinkle cinnamon on top. Bake them for 15 to 20 minutes, and enjoy by themselves or sprinkled on top of yogurt or oatmeal.
Keep the peel on
The skin of fruits and vegetables is usually packed with fiber, minerals, and other nutrients. In fact, about one-third of the fiber in vegetables is found in the skin or peel.
Mango, kiwi, potato, eggplant, cucumber, banana, and watermelon peels are all edible. The same goes for the peel of citrus fruits (just remove the bitter white pith).
Have a whole-grain breakfast
Whole grains are chock-full of fiber, offering both optimal flavor and nutrition.
For example, wheat bran provides a whopping 25 grams of fiber per cup. You'll also get 9 grams of protein, 47% of the recommended daily potassium intake, and 34% of the recommended daily allowance of iron.
Get creative with your breakfast and start the day with homemade granola, whole grain blueberry muffins, amaranth porridge, or quinoa with nuts and dried fruits. Another option is to make tortillas, muffins, waffles, or pancakes with whole grain flour.
Add smoothies to the mix
A high-fiber diet may help reduce your cholesterol levels and protect against heart disease. If that's the reason you want to increase your fiber intake, then you should smoothies are a great snack or light meal option.
Unlike juices, smoothies retain the fiber in oranges, apples, kale, and other fruits or vegetables. They offer all the benefits of eating the whole fruit, including better digestion and improved blood cholesterol. 
Need a quick boost of inspiration? Try these delicious smoothies to lower your cholesterol and get steady energy!
Serve a fruit or vegetable with each meal
Go one step further and make a habit of eating fruits or vegetables at each meal. Here are some ideas you might want to consider:
Add beans to soups, salads, stews, and casseroles
Swap white rice for brown or wild rice
Replace white pasta with whole-grain pasta
Use coconut, almond, oat, or soy flour in baked goods
Cook with whole wheat or rye flour instead of white flour
Sprinkle seeds on sandwiches, salads, and cooked meals
Snack on popcorn or veggie sticks instead of chips
Add nutritional yeast to salads and homemade snacks
Eat whole fruits instead of drinking their juice
As a side note, drink plenty of fluids throughout the day. The higher your fiber intake, the more water you need to prevent dehydration and constipation.
Recreate your favorite recipes
Last but not least, recreate your favorite meals and snacks using high-fiber ingredients.
For example, you could mix almond or coconut milk, mashed bananas, and other fruits. Freeze this mixture and serve it as a substitute for ice cream.
If a recipe calls for shredded cheese, use nutritional yeast instead. Replace flour with mashed black beans in brownies, and swap eggs for chia seeds in pancakes and other desserts.
High Fiber Foods Printable List
High Fiber Foods Chart by Category
As you can see, there are plenty of ways to add more fiber to your diet without sacrificing flavor. The key is to get creative with your recipes and make some simple swaps.
That said, keep this printable list of high-fiber foods (link) on hand. Place it in your car, on the countertop, or next to your desk, and let it guide your choices in the kitchen and beyond.
High-fiber grains
High-fiber beans and legumes
High-fiber vegetables
High-fiber fruits
High-fiber nuts and seeds
Give your meals a fiber boost
Now that you have this list of high-fiber foods, give your meals and snacks a fiber-filled makeover. Start with small changes, such as swapping white flour for whole grain flour, and take it from there. Remember, it's the little things that matter.
Most importantly, listen to your body and choose foods that not only support your health but also taste good. For example, walnuts can be a wonderful addition to brownies, granola, and savory snacks. Not to mention fresh fruits, which are just perfect for smoothies and homemade ice cream.
Go ahead and experiment with new flavors, recreate your favorite desserts, and rediscover the pleasure of eating!
Other Posts You'll Love