These vegan lemon poppy seed muffins are better than the coffeehouse. Make and freeze leftovers for anytime you need a quick snack or breakfast to go!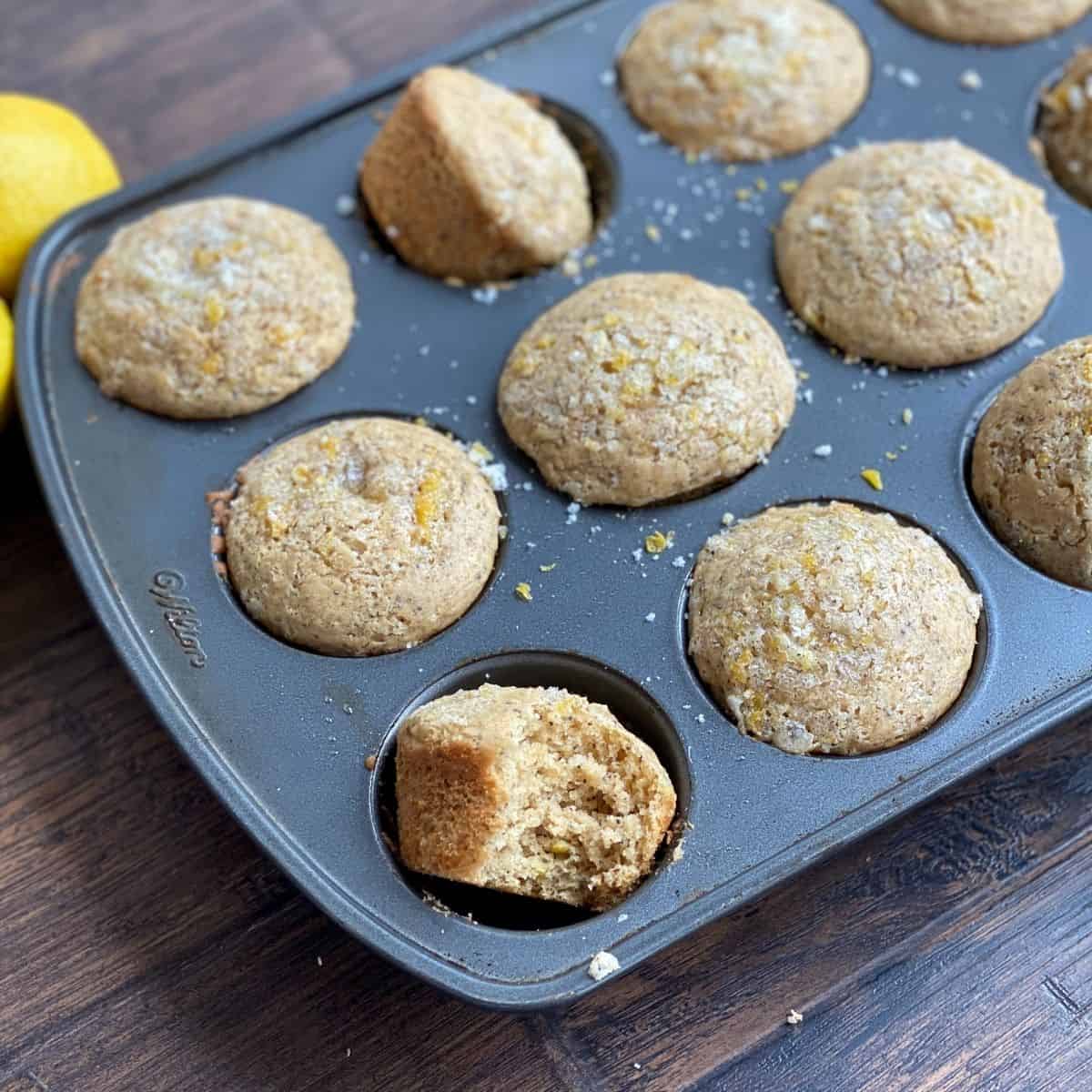 This post may contain affiliate links. This means that (at no extra cost to you!) I could receive a small commission should you purchase through the link-- I only recommend products and resources I know, love, use, and/or trust!
Something about the sun staying out longer and the grass turning green makes me want to eat all things lemon! All the warm weather inspired me to turn my coffeeshop favorite into a tasty vegan muffin. These can easily be frozen and warmed up to enjoy any time on the go.
How to make Vegan Lemon Poppy seed muffins
There may be a few extra steps to make these vegan muffins, but they come together quickly and are bursting with fresh flavor.
1. Preheat your oven 375 degrees F. Prepare a muffin pan either by spraying each well or by placing silicone liners into each well.
2. Prep the lemons by juicing and zesting them. If you don't have a citrus zester or a citrus juicer, you can easily juice and zest lemons without them.
How to zest a lemon without a citrus zester
Use a vegetable peeler and peel off the lemon zest, avoiding as much of the white pith as you can. Once you have most of the yellow zest peeled off, mince the peels.
How to juice a lemon without a citrus juicer
Roll the lemon around on the table for 10-20 seconds until it feel soft. Cut in half and squeeze the juice into a bowl with your hand. Use a fork to press along the inside of the lemon, extracting as much of the juice as you can.
3. If you are using the sugar topping, mix ¼ cup of granulated sugar in a small dish. Add in 1 tablespoon of your lemon zest and stir well. Set aside.
4. Make Your Vegan buttermilk: Using a medium sized bowl, mix 1 cup soy milk and 2 teaspoon of the lemon juice from your stash you made in step 1. Whisk together then let sit for 10 minutes or so. The acidity of the lemon juice will help the soy milk to curdle some. This will help give the muffins a softer texture and a bit of tang, which is perfect in a lemon muffin.
5. Make your flax eggs. For this recipe, you need two "eggs". To make vegan eggs for baking, use a ratio of 1 tablespoon of group flax to 3 tablespoon of water per egg. Combine the flax and water, whisk with a fork until combined then let sit for at least 5 minutes. As the flax sits it will gel up and create a consistency close to egg whites.
6. In a large bowl, add your dry ingredients: flour, baking soda, baking powder, and poppy seeds. Mix until combined.
7. By now, the soy milk and lemon juice should have curdled some. Add your flax eggs, oil, and the remaining lemon juice to the bowl with the milk. Stir well.
8. Slowly pour the wet ingredients into the dry ingredient bowl. Stir slowly with a big wooden spoon until everything is combined and there are no dry pieces. Be careful not to over mix as this can cause the muffins to be more dense and less airy.
9. Fill each muffin well approximately ¾ of the way full. If using the sugar topping, sprinkle evenly on top of each muffin. Bake for 18-22 minutes or until a toothpick comes out clean when placed in the center of a muffin. The tops will not brown up, so be sure to check the center after 18 minutes or so to avoid over baking.
Special Ingredients and Substitutions
Lemons: You really need to use whole lemons for this recipe. Using the lemon zest and the juice helps make the flavor of these muffins pop with a sweet/tart flavor that you can't get from a bottle.
Soy Milk: Any plant based milk will create vegan muffins, but soy milk is the only one I've been able to recreate vegan buttermilk with. I've tried oat milk and almond milk and was not able to get them to curdle the same way soy does when mixed with lemon juice. For the most tender muffins, I recommend sticking the the soy milk.
Flour: You can use any wheat flour you would like and get similar results. I've made these with all purpose flour and white whole wheat flour and the texture was the same. If using 100% whole wheat flour, the recipe will be the same but the muffins will likely be a bit denser. I have not used gluten free flour for these muffins, but if using a 1:1 gluten free all purpose flour you can follow the same recipe without adjustments.
Sugar: I used regular, refined, granulated sugar for this recipe. You could use any granulated sugar like coconut or cane. Just don't try to replace with a liquid sweetener as it will change the liquid to dry ratios.
Oil: I use avocado oil most often in my baking. You can use any light mild tasting oil such as canola or even light olive oil too.
Ground flax seed: Ground flax makes vegan baking easy as its a great substitute for eggs. You could use other vegan egg replacements as well, although I have not tested them with this recipe. If you are not following plant based or vegan, you can use 2 regular eggs as well. If using regular eggs, your muffins will brown on top.
Baking soda
Baking powder
Poppy Seeds
Storing Your Muffins
Once cool, place in an airtight container. You can leave these on the counter at room temperature for 1-2 days. If you're keeping them longer than a couple of days, I recommend freezing.
If you want to save these vegan lemon poppy seed muffins for a quick snack or breakfast later, you can easily store them in the freezer. I just let mine cool, then place in a plastic freezer bag or an air tight container. When you are ready to eat them, either let the muffin sit on the counter for 30-60 minutes until thawed or wrap in a paper towel and microwave for 30-60 seconds.
Did you make these vegan lemon poppy seed muffins Yet?
Leave some love with a star rating, comment, or by sharing this recipe with others!
Make sure to add to your Pinterest board so it's right at your fingertips next time you want to make it! While you're at it, Follow Graciously Nourished on Pinterest for more easy, tasty, and budget friendly plant focused meals!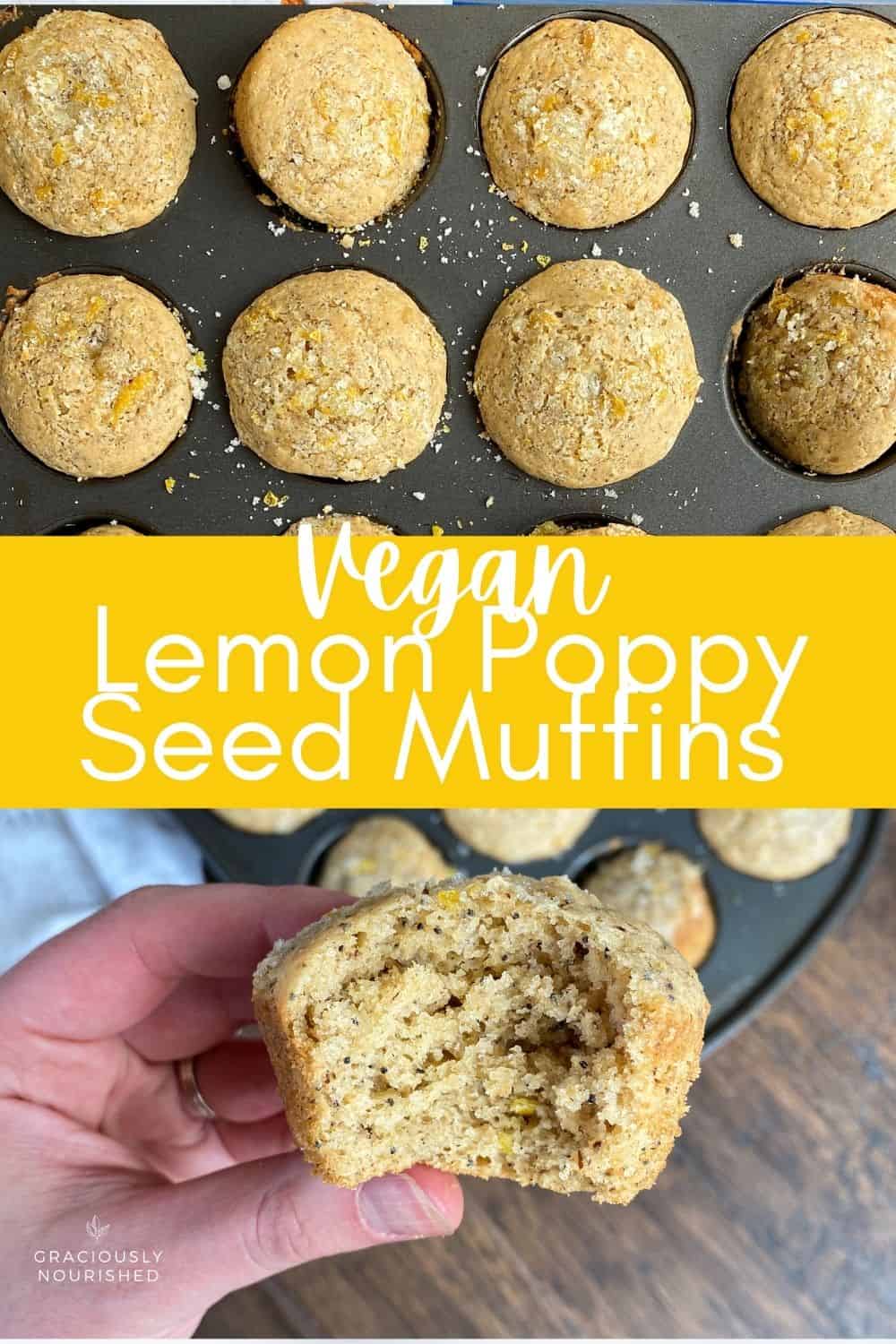 📖 Recipe
Vegan Lemon Poppy Seed Muffins
These vegan lemon poppy seed muffins are the perfect treat this spring. Make and freeze leftovers for anytime you need a quick snack or breakfast to go!
Equipment
Muffin tin

Muffin liners (optional)

Mixing bowls
Ingredients
1

cup

soy milk

2

lemons

Juice and zest. Approx ¼ cup juice and 3 tablespoon zest.

2

cups

flour

all purpose

⅔

cup

sugar

1

tablespoon

baking powder

2

teaspoon

poppy seeds

½

teaspoon

baking soda

⅓

cup

oil

2

flax eggs

2 tablespoon ground flax seed + 6 tablespoon water
Sugar Topping (Optional)
¼

cup

sugar

1

tablespoon

lemon zest
Instructions
Prepare Sprinkle Topping (Optional)
Mix ¼ cup sugar with 1 tablespoon lemon zest. Set aside.
Vegan Lemon Poppy Seed Muffins
Prepare a muffin tin with cooking spray or silicone liners. Preheat the oven to 375 degrees F.

Mix soy milk and 2 teaspoon of lemon juice together in a medium sized bowl. Let sit for 10 minutes until it begins to curdle.

Make your flax eggs. Mix 2 tablespoon of ground flax seeds with 6 tablespoon of water. Let sit for at least 5 minutes until the mixture gels up to the consistency of egg whites.

Meanwhile, add the flour, sugar, baking powder, poppy seeds, and baking soda in a large mixing bowl. Whisk until well combined.

Add oil, flax egg, and remaining lemon juice into the bowl with the soy milk. Mix well. Stir in the remaining 2 tablespoon of lemon zest.

Add the wet ingredients to the large bowl with dry ingredients. Stir until just combined. Be careful not to overmix.

Scoop batter into muffin pan. Fill each liner ⅔ of the way full, filling each liner evenly. If using the sugar topping, sprinkle on top of each muffin. Bake for 20-25 minutes or until set in the center.
Video
Notes
For nutrition facts:
** All nutrition information is an estimate only. The nutrition information will vary depending on ingredients and amounts actually used in preparations. 
Nutrition
Serving:
1
g
Calories:
193
kcal
Carbohydrates:
29
g
Protein:
3
g
Fat:
7
g
Saturated Fat:
1
g
Fiber:
1
g
Sugar:
12
g