If you're looking to make more sustainable choices at home to save the environment (and maybe even some money!), your kitchen is a perfect place to start. Taking steps towards a zero-waste kitchen can significantly cut down on the paper, plastic, and food waste your family creates.
This post may contain affiliate links, which means I may receive a small commission if you click and purchase from the link (at no cost to you!). See full affiliate information here.
Keep in mind that you don't have to do every one of these suggestions to make an impact. My best suggestion is to choose the tips or swaps that work best for your family and make small changes along the way.
Over time, you'll drastically cut down on waste without causing a family riot.
Jump to:
Shopping Tips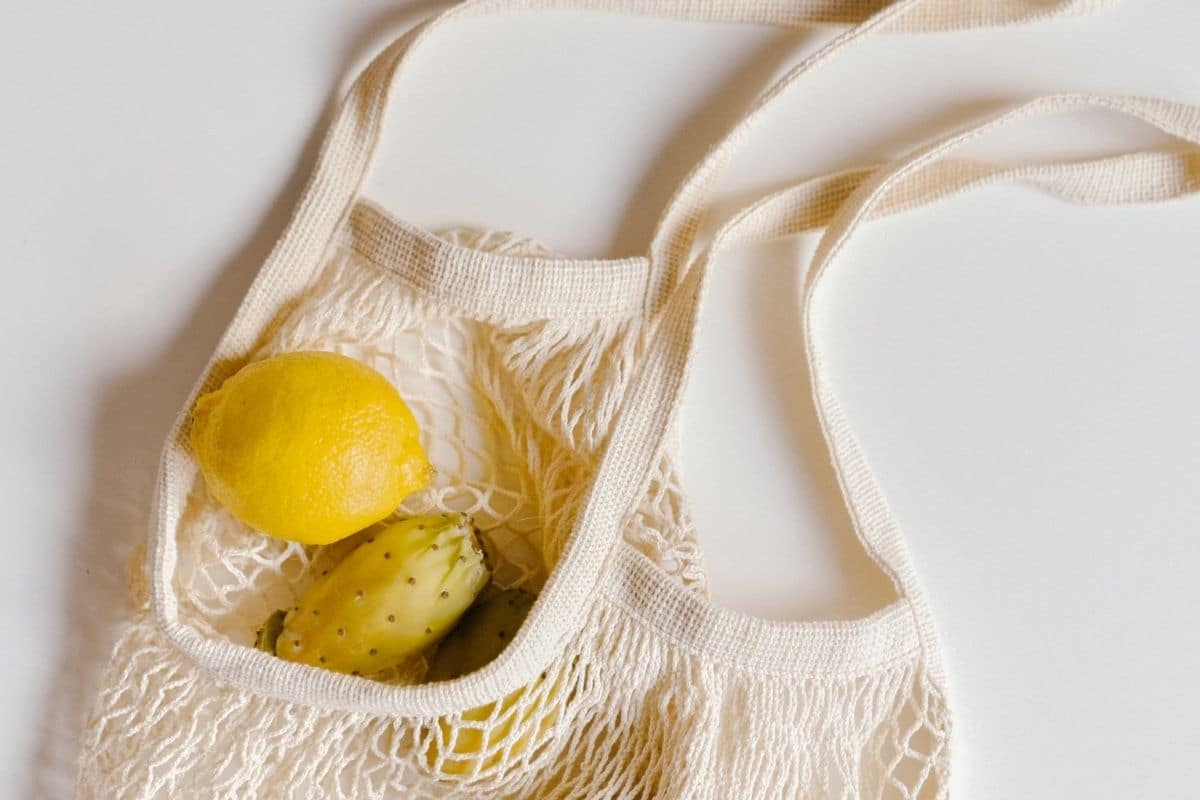 Buy in Bulk
This can be easier said than done, depending on where you live. I have to travel almost an hour to get to a warehouse store, bulk store, or a grocery store with a bulk food section. So, if it's a haul for you too, I get it.
Do an inventory of the foods your family uses most of: tomato sauce, noodles, beans, rice, condiments, ect. If you can find these items in bulk, many times you'll end up with less overall packaging and a better price.
Purchasing from bulk bins is one of my favorite ways to cut out the waste in the kitchen. Bring your own jar or cloth sack and grab just what you need. Be careful when taking your own jars though. Glass is much heavier and bulkier than you'd imagine. One of the easiest ways to transport bulk dried goods is with cloth sacks like these. 
Skip prepared fruits and veggies
While it is convenient to buy prepackaged and portioned fresh produce, you'll pay for it in cost and plastic waste. A whole watermelon or a head of lettuce comes free of plastic and will also save you money.
Buy meat from a butcher (or harvest your own)
The most sustainable way to eat meat is to hunt and process it yourself from the wild. Second, keep and harvest your own free-range meat like chicken, pigs, or cows. The third, purchase it from a local butcher or farm.
Most likely, unless your family hunts or you have land and the desire to own animals, you'll opt for option 3. Buying your meat from a local butcher adds up to fewer resources used for shipping and packaging, plus your meat will be fresher.
Use reusable grocery bags
Do you reach in your pantry only to have an avalanche of plastic shopping bags fall out? I know I do. We've had to use the grocery pick-up service lately due to illnesses and time constraints. While convenient, the amount of plastic bags is absurd. Many grocery stores offer plastic bag recycling for the times that you do a pick-up, drop off, or forget your bags.
Otherwise, come prepared with your own bags. Use tote bags that you've accumulated or purchase quality shopping bags made from recycled material that can be used for years to come. 
Shop seasonally and local
Hit up the local farmers markets with your reusable tote to support local farms, get waste-free goodies, and conserve resources needed to ship and store produce.
Shipping food across the country creates a large environmental impact that doesn't exist when you purchase locally. While this isn't feasible for everything, buying what you can in season that's grown in your region can help.
Analyze the packaging
Before making a decision at the grocery store, see what your options are. Chances are there will be some variation in the packaging available. Avoid single-use items and plastic packaging where it makes sense.
Take peanut butter, for example. Yes, you can grind your own at some stores, but for the most part, you'll have the option between plastic or glass. Choose a glass that can be easily upcycled and is 100% recyclable, unlike plastic.
The same goes for single-serving foods like yogurt or fruit cups. Buy the bulk container and divvy up the portions in your own containers at home.
Meal plan
The best way to make your shopping trip the most sustainable and eco-friendly as possible is to go in with a plan. Have a good idea of what food you need for fewer trips to the grocery store and less kitchen waste.
Buying too much food means you'll be tossing out those vegetables you had the best intentions for. Buying too little means you'll be wasting time and gas going back to the store to pick up what you forgot.
Taking a little time to make a meal plan will make a huge difference in the amount of waste your home produces.
Food Storage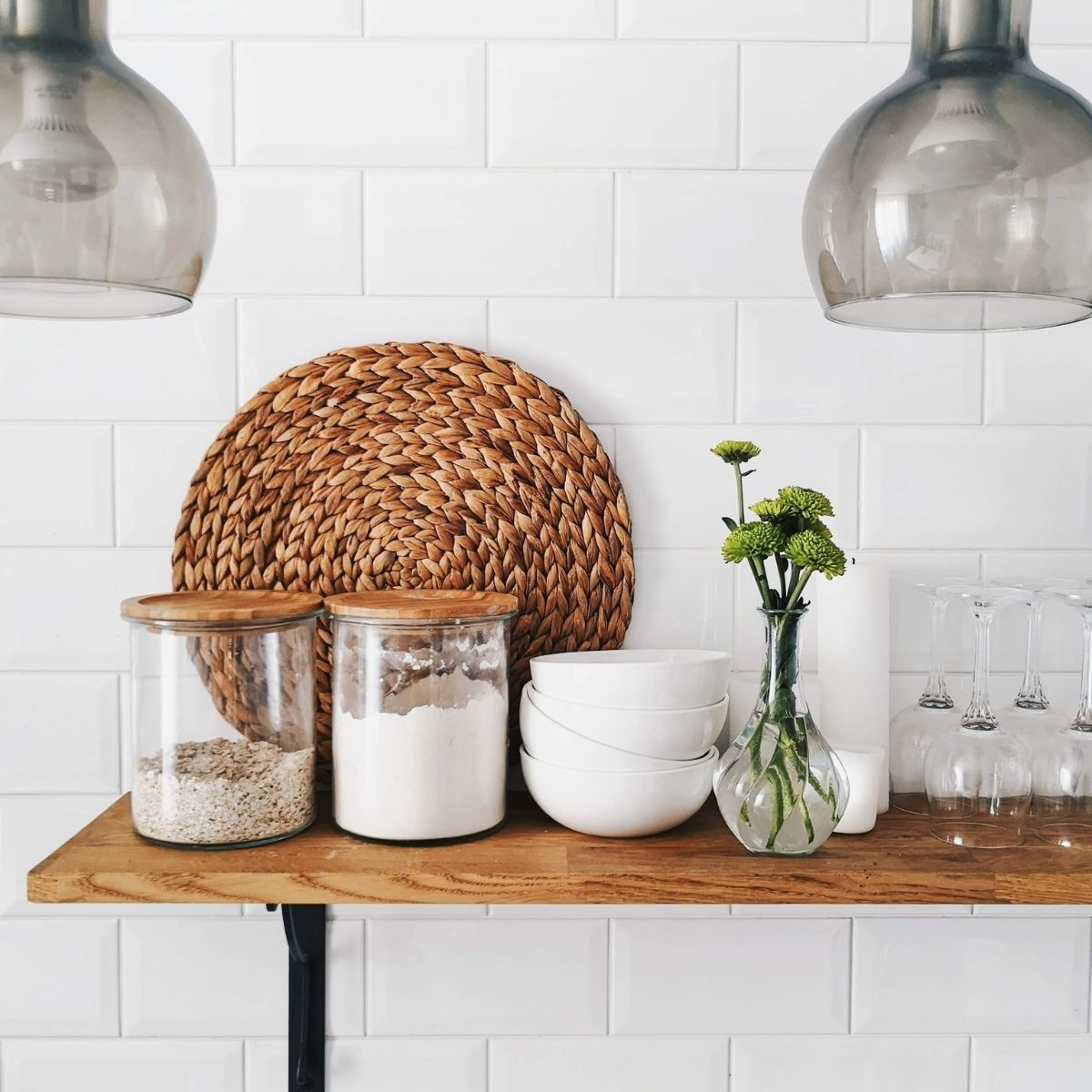 Use glass containers
You don't have to throw away the plastic containers you have now, but consider this tip for when you need to replace them. Glass containers won't stain when you store spaghetti in them and they won't melt in the dishwasher.
You'll save money in the long-run by not having to replace them nearly as often and won't have to worry about any chemicals leaching into your food either.
Opt for reusable wraps and bags over one-time plastics
Plastic wraps, baggies, and films can't be recycled curbside (although some may be accepted at store drop-offs). Instead of repeatedly purchasing baggies or wraps that will get one use, invest in reusable products. 
If you're sending a snack with your kids and don't want to risk them losing your nice reusable bags, keep some compostable bags on hand too! 
Save glass jars
Instead of recycling that pickle jar (peanut butter or pasta sauce jars work too– we're not picky!), upcycle it to store food. Remove the label and use it to store leftovers and dry goods like nuts, seeds, homemade granola and literally anything else in your fridge, freezer, or pantry.
Glass storage that's free. It doesn't get better than that.
Store food the right way
Shoving all of your groceries in the fridge when you get home from the store won't do you any favors when it comes to keeping food fresh. To avoid tossing wilted lettuce or sad-looking asparagus a few days after you buy it, make sure you store everything the right way.
Grab my Free Fruit and Veggie Storage guide to reference when you get home from the store and make sure you're keeping your produce in the right stop.
Eating and Cooking
Make your coffee or tea zero waste
Sure, K-cups are convenient, but they're the worst when it comes to the environment. Think of all the plastic packaging that gets tossed after every cup of coffee, cappuccino, or tea. For zero waste coffee, try using a french press or a reusable filter in a traditional drip coffee maker. 
When it comes to tea, skip the plastic-wrapped tea bags and get creative with loose-leaf brewing. If you aren't into making your own blends, opt for a brand that skips the plastic in their teabags so that you can add them to the compost when you're finished.
Preserve your own food
This is the key to self-sufficiency and sustainable eating. It can be as simple as freezing the berries you pick up from the farmer's market or drying the herbs you grow on your windowsill. When you gain confidence, you can have a little more fun by canning homemade broth and preserving salsa.
Take advantage of your own garden or the seasonal bounty available around by making it last. You'll get to enjoy local, fresh food for months to come and always have your favorite on hand.
Plus, with no shipping or packaging, you significantly cut down on the resources needed to get food on the table.
Make what you can
Making everything from scratch isn't realistic in today's world. But making what you can from scratch can add a whole new dimension to meal satisfaction and cut down on waste.
Granola, cookies, bread, yogurt, kombucha, hummus, and soup are just a few things that you could try making instead of buying. You'll save money, they taste amazing, and are often better for you.
Put food scraps to use
While tossing food scraps in the trash is easy, it's far from the most eco-friendly thing you can do. Finding ways to upcycle and recycle food will save you money and the planet from serious carbon emissions.
First, look at how you reuse the food. Coffee grounds could be used for body or hand scrubs, some vegetables can be regrown from their ends, and vegetable scraps can make an amazing stock. That's just the tip of the iceberg (a food that happens to regrow in water, too!)
What you can't use, compost. This way the food breaks down and feeds the soil instead of sitting in landfills unable to properly break down.
Eat a plant-forward diet
Making changes to your diet to include more plant-based options and fewer animal products can help decrease food packaging, and your carbon and water footprint.
Almost sixty percent of all Greenhouse gas emissions related to feeding the world come from livestock (and the food to feed those animals), per a September 2021 article in Nature Food. This is compared to only 29% from plant-based foods. Eating more plants can also help save water– healthy meat-free diets can reduce your water footprint by up to 55 percent, according to a September 2018 study in Nature Sustainability. 
You don't have to go all-in to make a difference either. Start experimenting and switching out foods slowly. Make meatless meals a fun time to try something new.
Skip the plastic utensils
Trying to avoid dishes in the sink by using plastic or paper plates and utensils adds up to money and waste. Single-use items are a huge waste of resources and money and load up the landfills. If you have a dishwasher, use it. A dishwasher is more sustainable than hand washing, according to Green Matters. 
Saving on electricity and water, the cost savings might be negligible but the ease of just filling the dishwasher and pressing a button is literally priceless. Plus, if it keeps you from using disposable dishes, you'll notice big savings in the grocery budget.
Compost food scraps
For the food waste that can't be avoided, choose compost. Composting enriches the soil, creates nutrient-rich material that can replace commercial fertilizers, and reduces your own carbon footprint by keeping methane-producing food out of the landfills, per the US Environmental Protection Agency (EPA). 
There are many ways you can compost. If you have a yard you can compost on the ground or in a compost bin. If you live in an urban environment without access to a yard, you can use an indoor composter or take advantage of a compost pick-up company like CompostNow. With all of the types of composters and services available today, it's easy to find a way to keep your food scraps out of the trash. 
Take inventory of leftovers
We've all done it. You pull out that container in the back of the fridge, not sure what it was or when you made it, only knowing that it's no longer edible.
Combat food waste by keeping stock of what you have available to eat. Make it part of your routine to do a daily inventory. Before you make a new dish, take stock of what leftovers are there to eat or what food is almost past its prime and needs to be used up. If you won't eat the leftovers before they go bad, try freezing it to enjoy at a later time.
Use a silicone baking mat
Parchment paper and aluminum foil can be a lifesaver when it comes to keeping your pans clean and your food unstuck. But all that paper and foil adds up.
Instead of going through roll after roll, invest in a reusable baking mat. These are easy to clean, keep your pans spotless, and will quickly save you money if you do a lot of cooking at home. 
Choose quality pots, pans and bakeware
Good deals are hard to pass up, especially for expensive items like pots and pans. But, you'll quickly pay for the "bargain" with peeled and scratched coatings. Invest in a couple of quality pots and pans that will pay for themselves in the long run. Stainless steel and cast iron are two of my favorites. Mine looks as good as new after over 6 years of daily use.
Grow your own herbs
Even if you're lacking a green thumb or the space for an outdoor garden, herbs are easy to grow and take any dish to a new level. You'll save money and plastic by keeping a couple of your most-used herbs ready to go on your windowsill. Not sure where to start, try an indoor herb kit to make it easy! 
At the Table
Buy second-hand or handmade
Sure, matching plates and bowls look pretty when they're all set out. But do you ever actually do that? With little kids (and my clumsy self), we've broken our fair share of dishes over the years. When you're in need of new– go secondhand. Pick a color scheme or opt for an eclectic vibe to give quality dishes a new life.
The best alternative to secondhand? Handmade. Support local small business potters and stock your cabinets with unique and quality pieces.
Use cloth napkins over paper
Napkins and paper towels are made for only one use, and sometimes you need a lot of them to do the job. Instead of spending your money on paper that will be thrown away, use cloth napkins, and reusable towels instead. You can easily upcycle shirts, old towels, or other fabrics that have lived past their prime. If you want your towels to look pretty and match your decor, invest in some unpaper towels which always look amazing. 
I like to keep paper towels on hand for those jobs that I don't necessarily want going through my washing machine, like for the happy little accidents toddlers and dogs make. For everything else, use cloth.
Sip on a reusable water bottle
This one has a double benefit. No more plastic bottles filling up your trash or recycling and you'll likely drink more water. Find a water bottle that you love, fits in the car cup holder, and is easy to clean. Then never ever let it leave your side.
Cleaning
Don't let the water run
If you're washing dishes by hand, make a point to put as much water as you'll need in the sink with soap, then turn the faucet off. Keep a rack on the second side so you can quickly rinse the soap suds off of everything at once, using cold water, limiting the amount of water you waste.
Skip the plastic sponge
While you can use a dishcloth for most jobs, sometimes you need a little more scrubbing power. Skip the plastic sponges that leach microplastics in the water system and lose their scruff too quickly. Try a compostable loofah instead. 
Use your dishwater or an eco-friendly all-purpose cleaner
Instead of running new water, use your dishwater (before you wash your dishes) to wipe down your countertops and appliances. This can help save water and give everything a sanitary clean.
If you need to wipe up when you're not doing dishes, use an all-purpose cleaner that's food-safe, such as vinegar and water or Bioclean.  The fewer cleaning products you need to purchase, the less waste you'll have from packaging. Plus, it keeps your cupboards from becoming unnecessarily cluttered, which is a win-win! 
Buy bulk or bar dish and hand soap
Skip the individual bottles for your hands and dishes, which add up to a lot of plastic waste. Instead, purchase a glass pump and fill it with soap concentrate or bulk soap. Or, you could just use a soap bar, which has zero packaging.
Why is Zero Waste Important In the Kitchen?
One thing we all do each and every day is eat, and chances are that you're spending a lot more time in the kitchen than most other rooms of your home.
The food itself, packaging, what you cook it with, how you serve it, store it, and how you clean it up can add up to a lot of waste if you're not careful. If you're in charge of feeding more than yourself, these small zero-waste kitchen swaps can add up to big savings in money and resources. Even small efforts and changes can get you closer to a zero-waste kitchen.
The Bottom Line
Zero waste is a lofty goal that not many (none?) of us can truly achieve. The goal shouldn't be zero waste, but less waste. By choosing even a handful of these zero waste kitchen tips, you'll be spending less money and wasting less resources than before. Have fun, get creative, and give these tips a try for your lower waste kitchen. Every small change makes a difference.